---
Robots' potential to take over the world is a commonly expressed fear in the world of AI, but at least one Turing Award winner doesn't see it happening that way.
Robots have considerable potential to make human lives better, but only if humans start doing some "big thinking" now about how to ensure that AI's effect is beneficial, experts said at the Heidelberg Laureate Forum in Germany.
They say you shouldn't judge a book by its cover, but a new imaging system from MIT can see right through the cover and read the book while it's still closed.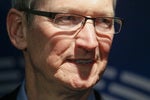 The European Commission's decision to force Apple to pay Ireland billions in back taxes is "total political crap" and a reflection of anti-U.S. sentiment, company CEO Tim Cook said in an interview published Thursday.

The first beta version of OpenSUSE Leap 42.2 is now available, giving enterprises and other stability-minded users the chance to check it out and get a taste of what's coming.
Aug. 25 marks the 25th anniversary of Linux, the free and open source operating system that's used around the globe in smarphones, tablets, desktop PCs, servers, supercomputers, and more.

Small is beautiful, as the old saying goes, and nowhere is that more true than in media files. Compressed images are considerably easier to transmit and store than uncompressed ones are, and now Google is using neural networks to beat...

The Linux kernel is improving faster than ever, gaining 7.8 patches per hour and 4,600 lines of new code every day.

It's long been known that secret messages can be included in music through techniques such as backmasking, but now a Polish researcher has developed an entirely new approach.

If you're using a version of Linux based on the 4.6 series of the Linux kernel, the software's lead maintainer has a message for you: It's time to upgrade.

Microsoft has made no secret of its grand plans for chat bots, and this week it rolled out five new ones for Skype. Surely the most fun is "Spock," a bot that promises to help you "learn the ways of Vulcan logic."
Load More
subscribe to
TechConnect
newsletter