The Raspberry Pi is an incredibly flexible little computer. You can use it for a wide range of projects ranging from the pragmatic to the innovative to the nostalgic—the same hardware can power a retro gaming setup as readily as an ad-blocking server. But if you've never handled a circuit board in your life, getting started with a Raspberry Pi may seem intimidating.
Well, fear not: There are special kits out there that make it easy for you to get started. The basic ones bundle together a Raspberry Pi board and necessary components (minus the keyboard, mouse, and monitor). More advanced options come without a Raspberry Pi board and instead focus on the specialized hardware needed for a particular project.
We've sifted through the options to find the best Raspberry Pi kits on the market. Our top picks include something for everyone, whether you want to build a simple secondary PC or dive right into advanced maker-style projects.
Pi Desktop
Retailer: Element 14
Price: $50
Board included: No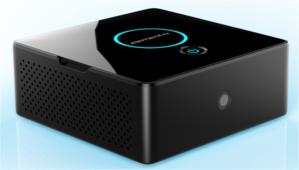 We're kicking off this list with a kit that doesn't include all the bells and whistles. Visually similar to Intel's Windows-based NUC kits, the Pi Desktop is a big square box that comes with an add-on board that connects to the Raspberry Pi via its GPIO pins. There's also a variety of PC-like innards including an mSATA interface, power controller, system clock, and heat sink.
All you need to bring is a Raspberry Pi 3 board, an SSD up to 1TB capacity, and a DIY can-do attitude. In no time you'll be up and running with your own snazzy looking Raspberry Pi desktop PC.
CanaKit Basic
Retailer: CanaKit via Amazon
Price: $50
Board included: Yes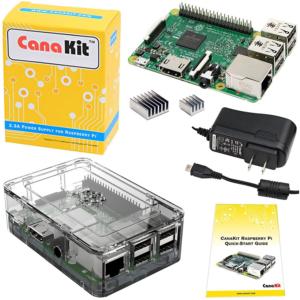 Raspberry Pi kit maker CanaKit offers a basic kit with only the essentials included. It comes with a Raspberry Pi 3 board, charger, case, and two heat sinks. The heat sinks aren't strictly necessary, but they're a nice touch.
To get up and running, you'll need to add a microSD card, keyboard, mouse, and HDMI cable.
CanaKit Raspberry Pi 3 Complete Starter Kit
Retailer: CanaKit via Amazon
Price: $70
Board included: Yes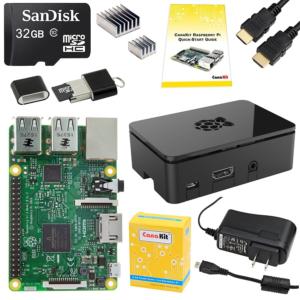 This kit is a healthy step up from the basic starter pack. CanaKit's Complete Starter Kit includes everything you need to get started with a Raspberry Pi: You get a Pi 3 board, a 32GB microSD with the NOOBS operating system pre-installed, a case, power adapter, two heat sinks, and HDMI cable. If you want to dive right in without having to wait for separate shipments for your components, this particular kit's the way to go.
Retro Gaming kit
Retailer: The Pi Hut
Price: £65.00 ($88.67 USD)
Board included: Yes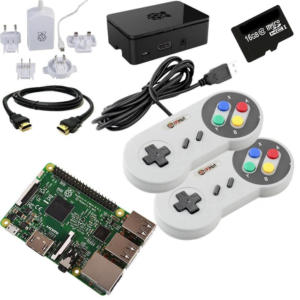 One of our favorite uses for the Raspberry Pi is as a classic gaming console. If you don't want to scour Amazon and other retailers for the materials you need, this gaming kit from Pi Hut puts it all together for you in one place.
In addition to the Raspberry Pi 3 and accompanying case, you get two Super NES-like game pads, a blank microSD card, microSD to USB adapter if you need it, power supply, and a six-foot HDMI cable.
For legal reasons, the retailer can't supply the operating system or video game ROMs, so you'll have to download all of that stuff on your own. If you aren't sure how to get started, we've got a handy tutorial on how to build your own Pi-based retro gaming console.
CanaKit Raspberry Pi Kit for Dummies
Retailer: CanaKit
Price: $90
Board included: Yes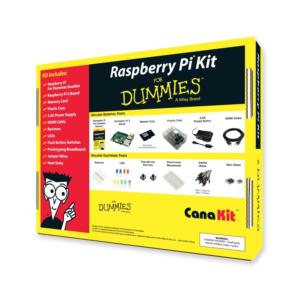 The Raspberry Pi for Dummies kit is great for anyone who wants to get into the hardware hacking craze. It includes a Raspberry Pi for Dummies booklet, which serves as a primer for working with the Raspberry Pi and starting your own projects.
The hardware in the kit is what you'd expect: a Raspberry Pi 3 board, microSD card with the NOOBS operating system installed, power supply, Raspberry Pi 3 case, six-foot HDMI cable, and two heat sinks. You also get a breadboard, jumper wires (M/M and M/F), LEDs, push button switches, Ohm resistors, and a GPIO quick reference card.
PiAware Aircraft Tracking Kit
Retailer: ModMyPi
Price: £85.00 ($113.52 USD)
Board included: Yes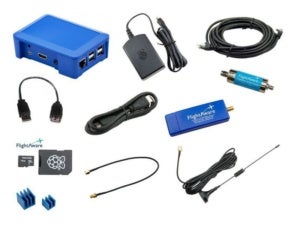 Now this is an interesting project kit for air travel fans. It lets you transform your Raspberry Pi 3 into an ADS-B (automatic dependent surveillance-broadcast) ground station—you'll receive real-time data from airplanes within range of the included FlightAware antenna.
The kit includes the Raspberry Pi 3, a Raspberry Pi case, microSD card with PiAware software installed, power supply, video cable, ethernet cable, heat sink, FlightAware Pro Stick or Pro Stick Plus, USB cable, 1090MHz antenna, 1090MHz band-pass SMA filter, and a keyboard.
This kit is customizable, so make sure you go through the various choices ModMyPi offers before paying.
PiTop Kit
Retailer: Adafruit
Price: $275
Board included: No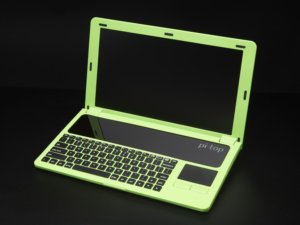 If you find yourself wishing your Raspberry Pi 3 could be a laptop, this kit from Adafruit is for you. You'll have to bring your own Raspberry Pi 3 board, but it has everything else you'll need: a screen, base top, base bottom, a hub circuit board with 150 necessary components including a screen driver and power management, an 8GB SD card with Pi-Top OS, various cables and screws, and charger.
Adafruit offers the Pi-Top in gray and neon green.
Google AIY voice kit
Retailer: ModMyPi
Price: £25.00 ($33.36 USD)
Board included: No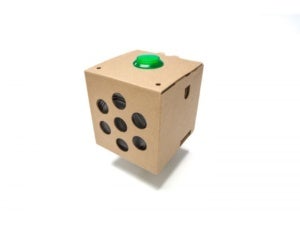 The Google AIY voice kit isn't for creating your own personal desktop. Instead it's designed to create a DIY Google Home using a Raspberry Pi 3. Once again, you don't get the Raspberry Pi board with this kit.
It comes with a voice HAT accessory board, voice HAT microphone board, a three-inch speaker, a push button, wires and assorted components, and a cardboard box and frame to house the whole project.
To complete the project, you'll need a Raspberry Pi 3, microSD card, Philips screwdriver, and tape.
This story, "Best Raspberry Pi 3 kits: 8 options for beginners and experienced makers" was originally published by PCWorld.