Best laptop bags: Editor's choice for commuting, traveling, and charging your devices
We found some of the best laptop bags for every situation, whether you're commuting everyday to work, traveling abroad, or want to charge your devices on the go.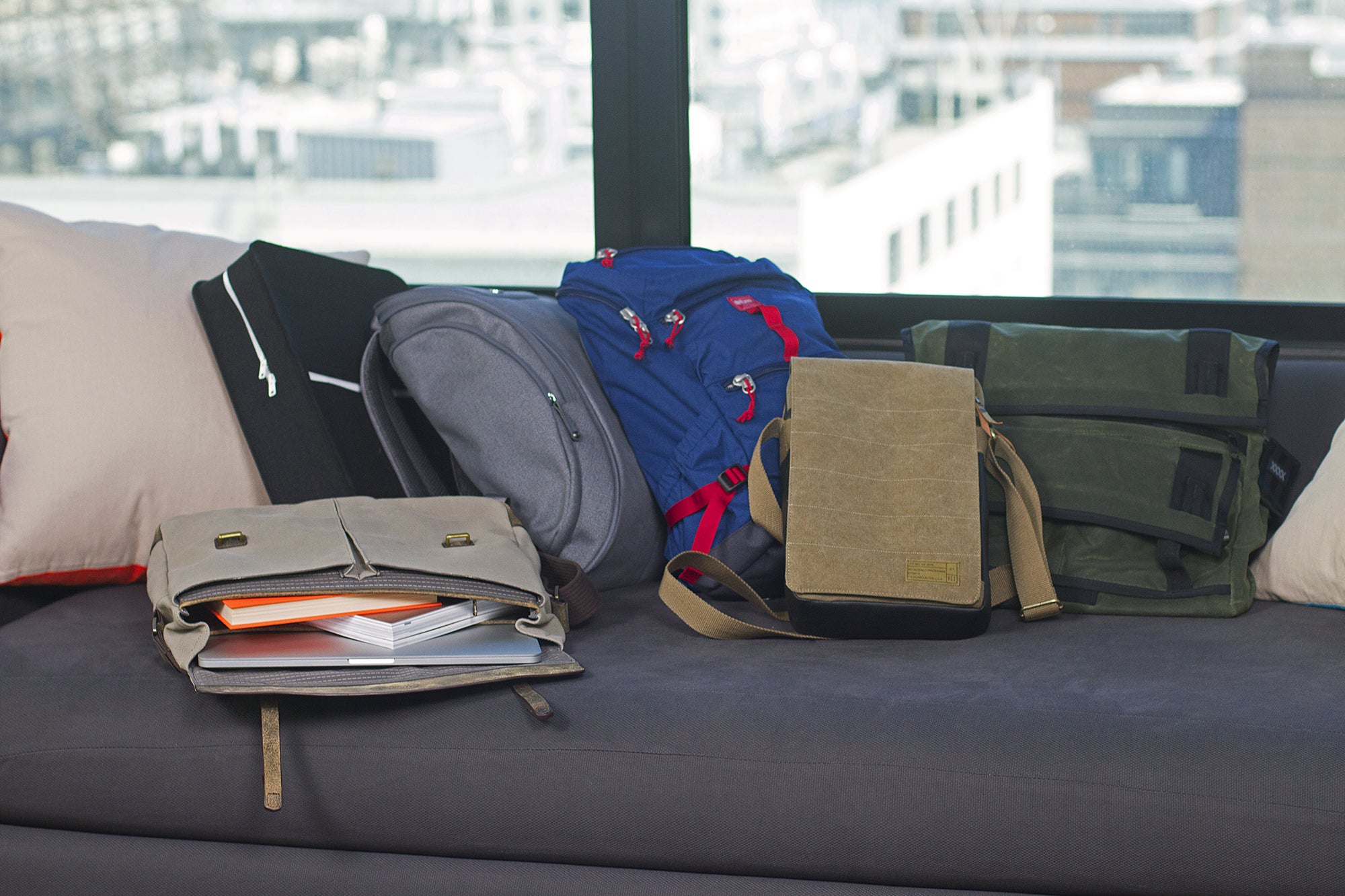 Next to a laptop itself, a laptop bag is one of the most important purchases you can make. With so many laptop bags and backpacks to choose from, it would be an idle exercise to try to find the best laptop bag out there. Instead, we'd rather help you find the right laptop bag for any situation, like commuting everyday to work, traveling abroad, or charging your devices on the go.
To be considered in this review of laptop bags, each product had to have a designated laptop sleeve or compartment. These bags can all fit up to a 16-inch laptop, except where noted. Keep checking back as we review more laptop bags and backpacks and continually update this guide.
Best commuter backpack: Timbuk2 Authority Pack
Timbuk2 has a great reputation for making durable, well-designed bags, and its newest Authority Pack collection, released in May 2017, is no exception. At first, the Authority Pack (MSRP $129, available on Amazon) may not look special or particularly impressive, but after about a week, it managed to win me over. It's now my my everyday backpack. The Authority Pack's unassuming style makes it suitable for an office environment, yet it's durable enough to withstand a tough commute.
The Authority Pack has a separate padded compartment big enough for a 15-inch laptop that you can get to without a fuss. The backpack then has two main pockets, one designed for carrying your hoodie, gym shoes, or a six-pack of beer. The second-major pocket has an internal organizer so you can keep your iPad, notebooks, chargers, and stationary stored neatly (or not). There's also a side pocket on the front for storing things that you need to take out quickly, whether that's your smartphone or your house keys. And don't worry about a water bottle taking too much space inside these main compartments, the Authority Pack also has a stretch-y external bottle holder on the side.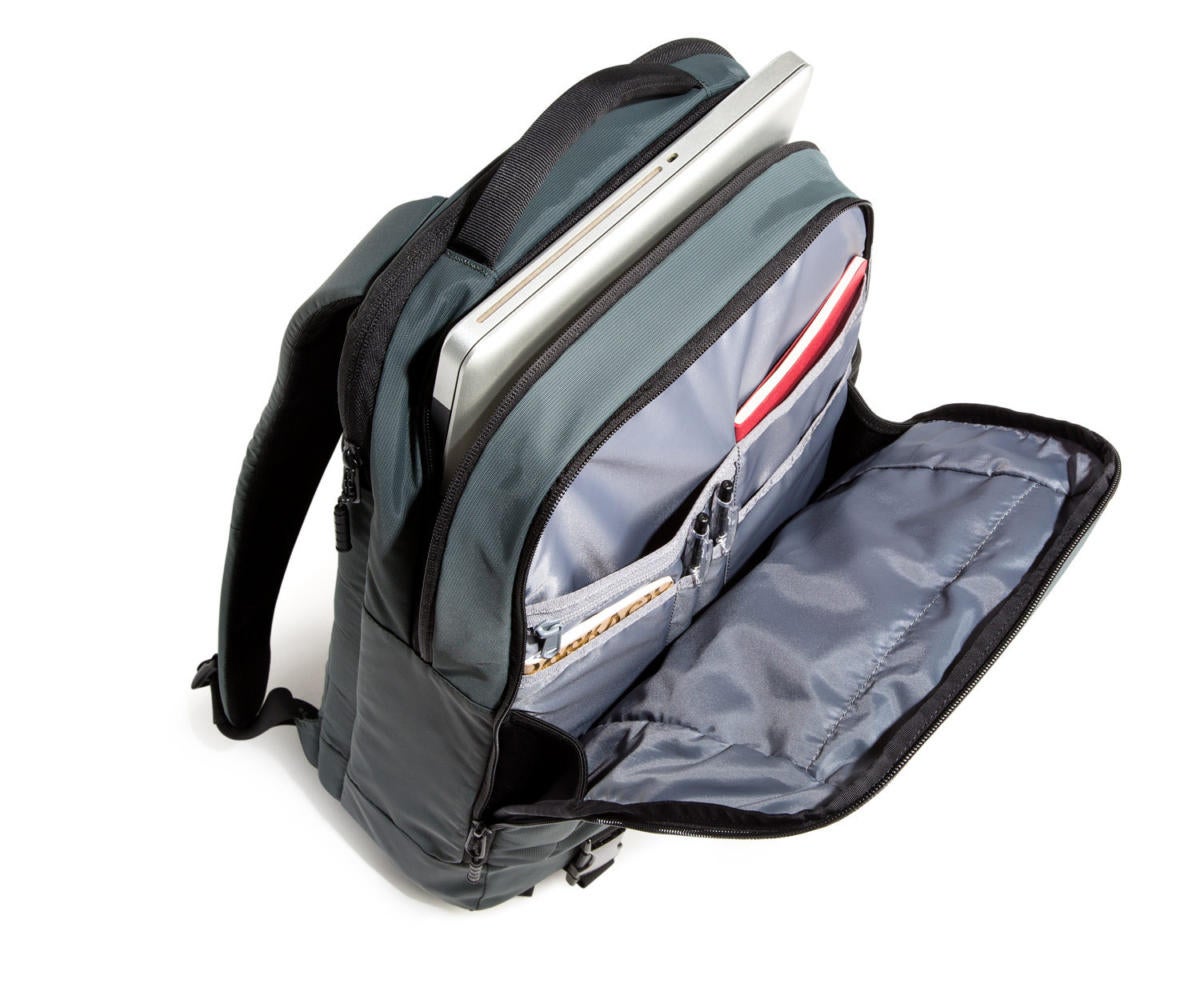 The Authority Pack can certainly fit a lot, yet Timbuk2 made it from a lightweight fabric so it rarely feels too heavy. And unlike other bulky backpacks, the Authority Pack is more compact so it doesn't take too much space even in crowded subway trains or buses. You can also adjust the compression straps at the bottom so it can expand or contract based on what you need to carry. If you bike to work and find yourself working late, you'll be grateful for the reflective tape under the compression straps as well as the reflective zipper pulls.
Runner up: Booq Cobra Squeeze
Leave it to Booq to make a laptop backpack that's both compact and spacious at the same time. The company's Cobra Squeeze (MSRP $195, available on Amazon) is the VW Beetle of laptop backpacks, using a dome shape so you can stuff as much as possible without creating weird bumps or needing an oversized backpack. The Cobra Squeeze has a dedicated laptop sleeve that can fit up to a 15-inch MacBook Pro or a 16-inch Lenovo Ultrabook. Then there's a second sleeve for tablets. On either side of the backpack, you'll find easy-to-reach zippers for storing your smartphone. These side pockets have extra padding to avoid scratches.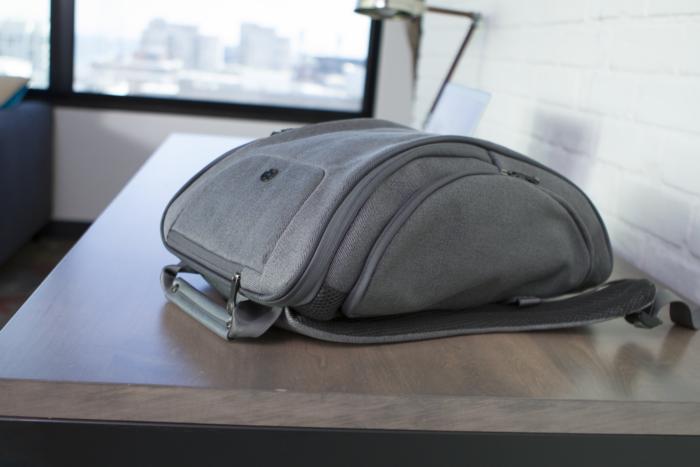 This backpack's unique turtle-shell design also helps redistribute the weight so that your shoulders don't feel worn out throughout the day. The shoulder straps are padded and curve inwards, which is very helpful, too. Furthermore, the Cobra Squeeze uses a water-repellant fabric in case of a rainy day, and the company has instituted a serial number tracking system to help recover lost Booq bags, making one a worthwhile investment.
Best messenger bag: Peak Design Everyday Messenger
By design, messenger bags all have one unique problem: They have to be able to give you easy access to your stuff when you need it while keeping it securely stored when you don't. Zippers can get stuck, and undoing a buckle is not always easy. So, the best solution to this problem that I've seen comes from San Francisco's Peak Design. The company's Everyday Messenger bag (MSRP $219.95, available on Amazon) has a patented "MagLatch" closure that relies on a powerful magnetic strip for effortless access. You can also latch and lock the metal clip for added protection.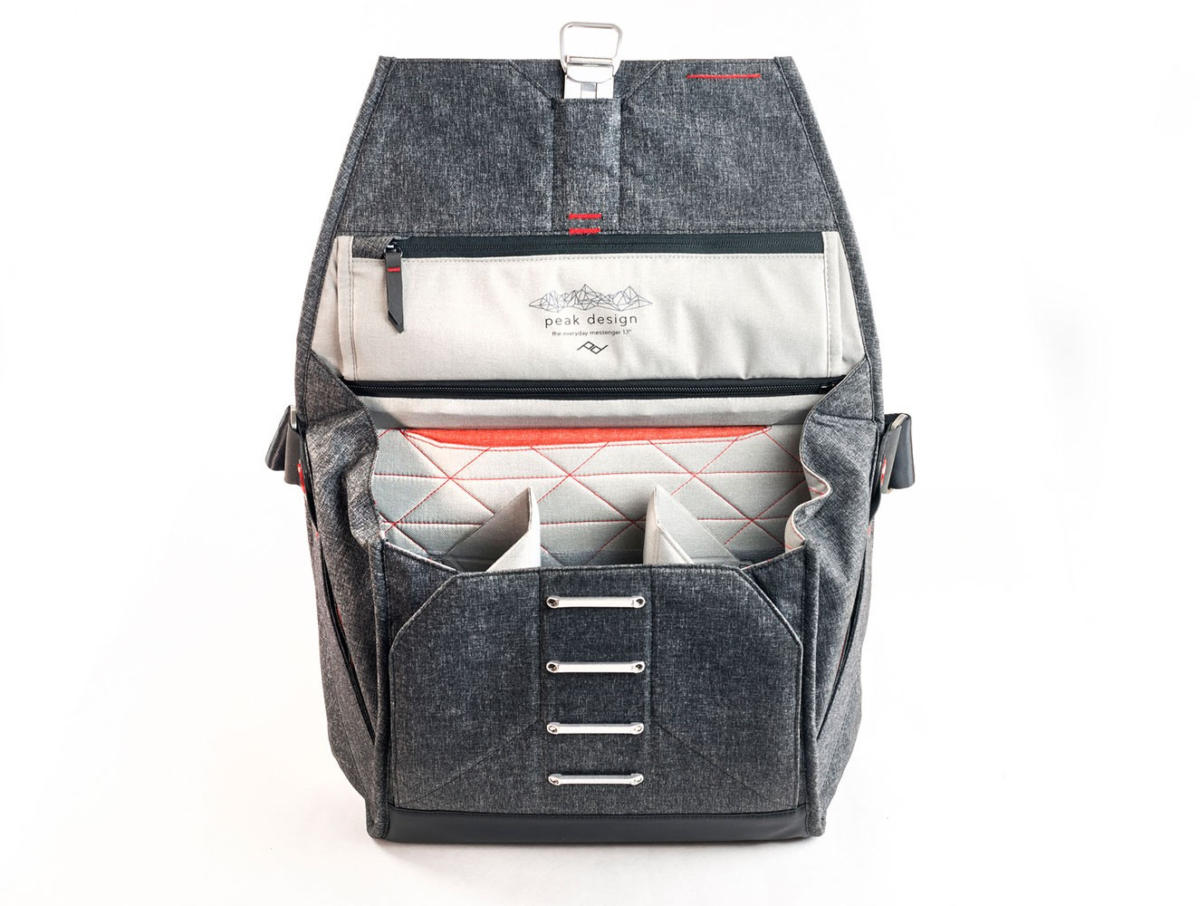 This MagLatch system may sound tricky, but it took me just a few tries to get the hang of it. Even fully-locking it becomes intuitive very quickly. I've never had this much fun locking and unlocking a metal latch on a bag. The outer shell is made from Kodra Nylon and coated with water-resistant wax for a tactical feel. The interior is made from mixed-cotton twill and comes with origami-shaped dividers that you can arrange to organize everything from a DSLR camera to a drone.
I tested the 13-inch Everyday Messenger since I use a 12-inch MacBook, but if you have to carry around a larger laptop, there's also a 15-inch version that's $229 on Amazon.
Runner up: The Messenger by Pad and Quill
This wax canvas and leather messenger bag by Pad & Quill (MSRP $395, available on Amazon) is made from high-quality materials, promising to be the only laptop bag you need and one that could last you a lifetime. Pad & Quill uses bridle leather so that it looks smooth and ages well. The bag is bound together by "parachute-grade" nylon stitching, so it's good to know you can use it to hold on to dear life if you ever fall off a building. It comes in three color variations: Whiskey Brown and Charcoal Grey, Chocolate Brown and Charcoal Grey, and Chocolate Brown and Olive Green.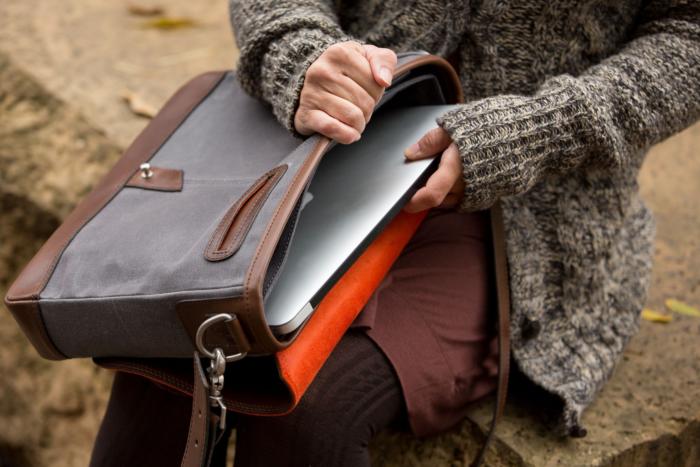 Getting this brand-new messenger bag, you can feel just how sturdy it is. In fact, it will take a few weeks for you to get a more relaxed, "lived-in" fit from the tough leather, which speaks to the high-quality of the materials that they won't disintegrate overnight. The laptop compartment can fit a 15-inch computer, and there's an easy-access front pocket for storing your smartphone. Inside the main compartment, there is a pocket that's sized perfectly for a Moleskin notebook, which only complements the look that this bag is going for: Just rugged enough for the office. Design-wise, the only thing about this bag that may throw some people off is the bright orange interior lining. Pad & Quill claims it's to help you find your stuff, but it could be a jarring if you're not used to bold color patterns.
Best charging backpack: North Face Resistor/Inductor
One of the most obvious cases when you'll need your backpack to recharge all your devices is when you're in the outdoors, so it makes sense for North Face to have made our favorite charging backpack. The 31-liter Inductor Charged Backpack (MSRP $229, available on Amazon) and the 36-liter Resistor Charged Backpack (MSRP $249, available on Amazon) come with a Joey T55 removable, water-resistant battery that will recharge your iPhone 3.5 times without overheating.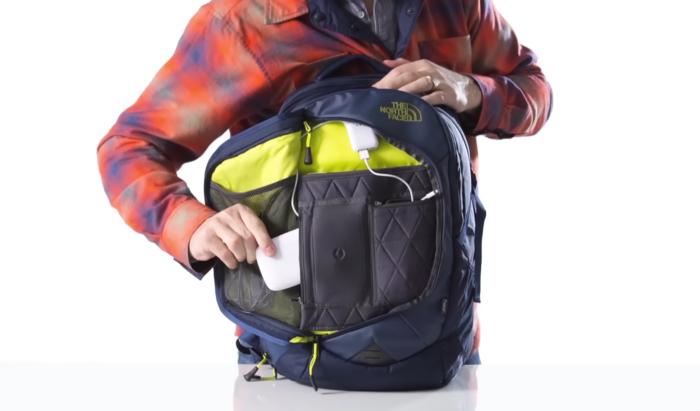 Even though North Face Charged collection is perfect for the outdoors, the Inductor and Resistor backpacks are surprisingly versatile. They have a secure padded sleeve for your 17-inch laptop, that can be open to lay completely flat to pass through airport security. The front of the backpack has a D-shaped zippered compartment so that you can reach the battery, as well as your iPad and iPhone in their own fleece-lined pockets. Carrying lots of devices can be a burden, literally, so North Face has also incorporate a state-of-the-art suspension system for the shoulder straps, and a mesh back panel so you won't get sweaty even after hours of hiking, or running down the block to try to catch your bus.
Runner up: STM Drifter Energy
STM's Drifter Energy backpack (MSRP $240, available on Amazon) has been recently upgraded to include a Joey rechargeable energy pack, so that you can have your very own charging station wherever you go. The Drifter Energy's 3500mAh battery was able to recharge an iPhone 6s twice before being completely drained. Best of all, the iPhone can stay securely stored inside the backpack while charging. The main compartment has straps and pouches to organize your cords so they don't get tangled up while traveling, and the battery comes equipped with temperature sensing to prevent it from overheating.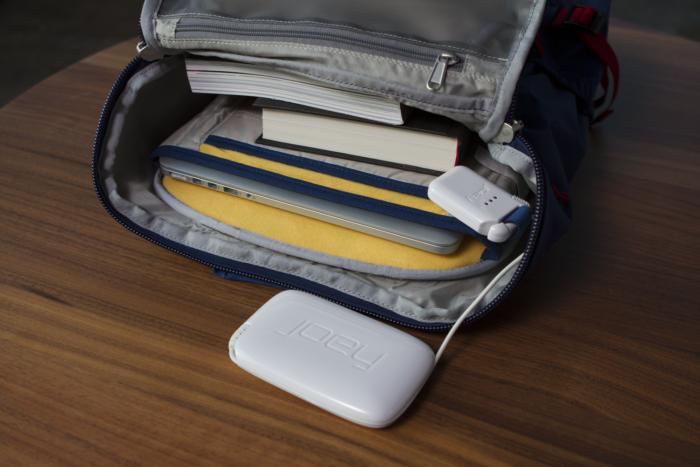 This backpack was designed for keeping your electronic gadgets charged, but also protected. The laptop sleeve, which can fit up to a 15-inch MacBook Pro, is padded and attached to the back of the bag, as opposed to the bottom. That way, your laptop will remain suspended above the floor when you set your bag down. You can store your phone and camera on the top fleece-lined pocket to prevent scratches, or bumping around with the other stuff in the main compartment.
Best-looking bag: M.R.K.T. Evan Backpack
If you want to make an impression, wearing this stylish backpack is a good way to start. The Evan Backpack (MSRP $125, available on Amazon) is the product of Mad Rabbit Kicking Tiger or M.R.K.T., a Los Angeles-based company that was started by a Harvard architect. So, inspired by architectural concepts, this backpack is surprisingly spacious and sturdy, with a felt interior that makes it water repellant. Its unique look literally stopped strangers in their tracks, so be prepared for people asking you where you got it.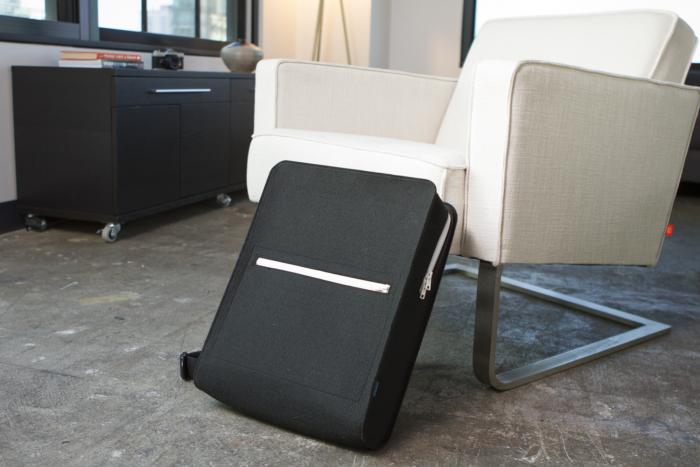 Evan never lost its curved-rectangular shape, even after we tossed it around a few times, stomped on it, and stuffed it to the max. In fact, the Evan Backpack may seem too precious to carry any substantial load, but it was able to accommodate a 15-inch MacBook Pro, two textbooks, a hardcover novel, a water bottle, and an iPad mini to boot. The backpack zipped up perfectly, and it retained its cool-looking shape throughout the day even with all that gear stuffed inside. 
Runner up: Spiegel's Klasden 3 Backpack
Spigen is known for its minimalist design, and its Klasden 3 Backpack (MSRP $100, available on Amazon) could be the culmination of that. This backpack is lightweight and there are no pockets galore, keeping it sleek and simple, while still being able to fit a lot of stuff inside—including a 15-inch laptop. You can get the Klasden 3 in black from Spigen's website and the grey version is available on Amazon for $80.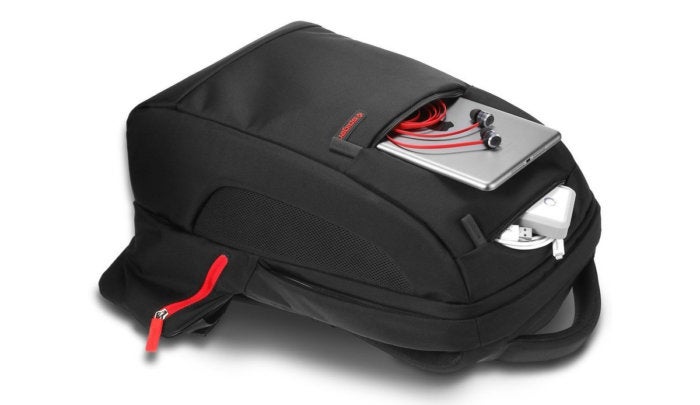 The way the Klasden 3 is structured makes it look like each pocket is a different compartment, and the mesh on the sides (though purely cosmetic) resembles grills of some sort. Overall, this backpack looks like it could be part of a spacesuit. My favorite part are the two zippered pockets on either side, just big enough to hold my iPhone 6s, my keys, and some credit cards. These tiny pockets are down by the end of the straps, so I can easily reach them and zip them open without taking the backpack off. Plus, the laptop sleeve is lined with fake fur on the inside, and there are elastic bands to hold the straps in place once you tighten them. It's those little details that make this backpack a design win.
Best travel bag: Incase EO Travel Backpack
Incase is known for making stylish, top-notch accessories, so it's no surprise that their travel backpack is the reigning champion in this category. The EO Travel Backpack (MSRP $179.95, available on on Amazon) stores up to a 17-inch MacBook Pro in a separate sleeve so you can get to it quickly without having to shuffle all your other stuff around. And boy, can it fit lot of stuff, as the main compartment expands by 35 percent when you release the compression straps on the side.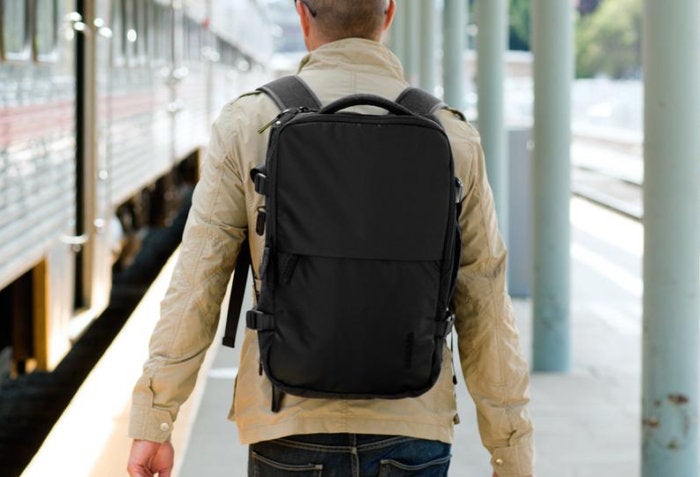 The EO Travel Backpack has a clamshell design so you can open it completely and lay it down flat, so you can easily pack all your things before a big trip. The shoulders straps are padded to soften the weight, and the back is made of breathable mesh so your back won't get quite so sweaty during long travels. The backpack is also made of water-resistant fabric in case you travel to a stormy destination. And, of course, it's allowed as a carry-on luggage.
Runner up: Just Porter Sable Rucksack Backpack
Just Porter spent two years designing the Sable Rucksack, a waterproof, roll-top backpack which uses a custom thermoplastic polyurethane fabric to keep your things dry. And you know how you have to take out your laptop every time you go through airport screening? The Sable backpack has a padded laptop compartment with its own separate side-access, so you don't have to dig for your MacBook.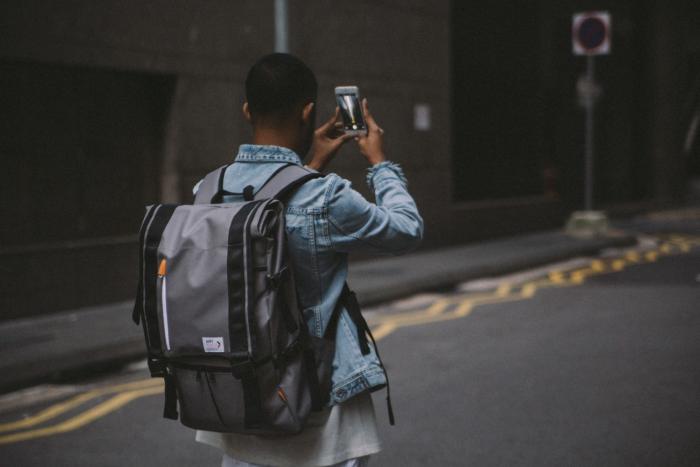 It also has quick-release magnetic buckles on the front, just in case you do need to get to the main compartment in a hurry. The Sable Rucksack Backpack is available in gray, black, and olive for $150 from the Just Porter website or from Amazon for $149. The company also has instituted a charity program so that for every backpack sold, they send a backpack full of school supplies to a kid in need.
Best under $70: Solo Pro 15.6" Backpack
The Solo Pro 15.6" backpack (MSRP $50, available on Amazon) is a budget-friendly version of the Klasden 3 Backpack. Right now it's on sale for $35, making it a very budget-friendly choice. You can fit a 15-inch laptop in this version, but there's also a bulked-up 17.3-inch version available now for $49 on Solo's website. Both Pro backpacks are only available in black.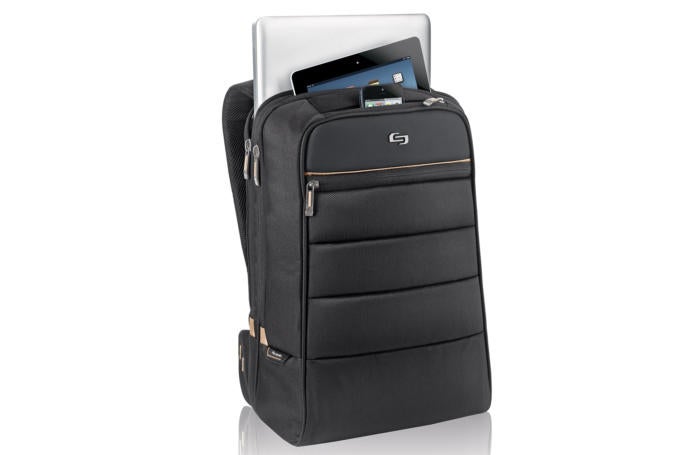 Despite its price tag, there's nothing about the Solo Pro backpacks that could be described as cheap. Sure, it's made from polyester (hey, it's water resistant!) and you won't find leather accents nor a fleece lining. But the Solo Pro still makes a reliable everyday backpack, with a padded laptop sleeve, and a pocket for your iPad in the main compartment, plus an easy-access top pocket for your iPhone. Still, the best thing about it has to be the price.
Runner up: Hex Infinity Cross-Body
By packing only the essentials, Hex's Infinity Cross Body bag (MSRP $69.95, available on Amazon) can save you a lot of time before leaving the house. And essentials can mean a 12-inch MacBook or a12.9-inch iPad Pro, as this bag as enough room for that. The main compartment has a laptop sleeve that's padded with super-soft fleece to prevent any scratches. Tablets can fit in the exterior pocket in the back for easy access. Right on the front there's an organizer that can fit any sized smartphone and even an iPad mini.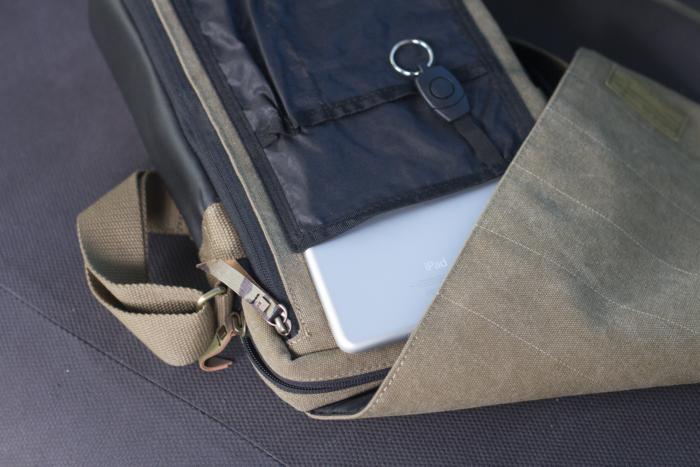 The flap covering the organizer has a magnet closure that will stay secure as you dash across the street. The straps are sturdy and adjustable, but they aren't padded. This laptop bag his perfect for people with an ultra-portable laptop and because of its cross-body design, it's also great for biking. 
Shop Tech Products at Amazon