Update
The best laptops: Ultrabooks, budget PCs, 2-in-1s, and more
Our top picks feature the best tech advances in portable PCs, from new CPUs and GPUs to new materials.

Page 2 of 2
Best budget gaming laptop: Dell Inspiron 15 7000
You no longer have to be P. Diddy to be able to afford a gaming laptop that has some chops. 
The new Inspiron 15 7000 (available at Dell.com) improves on the previous version by adding a GeForce GTX 1060 Max-Q chip (the previous model topped out at a GeForce GTX 1050 Ti). 
No, the GTX 1060 Max-Q isn't quite as fast as the full-fledged version, but it's really, really close. Close enough that when you're getting a GPU that used to come only in laptops in the $1,500 range, you won't mind.
That's because while you're getting a lot more GPU from the new Inspiron, you're only paying about a $100 more than you did over the last model.
That price includes the GTX 1060 Max-Q, a quad-core Core i5, 8GB of RAM, and a 256GB SSD. The RAM and SSD are easily upgradable, and you can even drop in a hard drive.
There's still a catch with the new Inspiron 15 7000: the display. The original Inspiron 15 7000 featured a downright-ugly TN display. Dell has since upgraded to an IPS panel. It's better, but for those who expect all IPS panels to be wonderful, that adjective doesn't apply here.
But hey, you are getting a GPU capable of running most modern games without turning down the image quality. To a gamer on a budget, that's the most important part.
[$800–$1,400 MSRP; $950 MSRP as reviewed]
Best portable gaming laptop: Gigabyte Aero 15X
Believe it or not, people do use a gaming laptop for things other than gaming. And for those who care about battery life but still want performance when plugged in, it's hard to beat Gigabyte's Aero 15X. It's essentially an upgraded version of the Gigabyte Aero 15 with a GeForce GTX 1070 Max-Q GPU. Sure, cynics will say it's really just a GeForce GTX 1065, but it's actually more like, well, a GeForce GTX 1068— so there.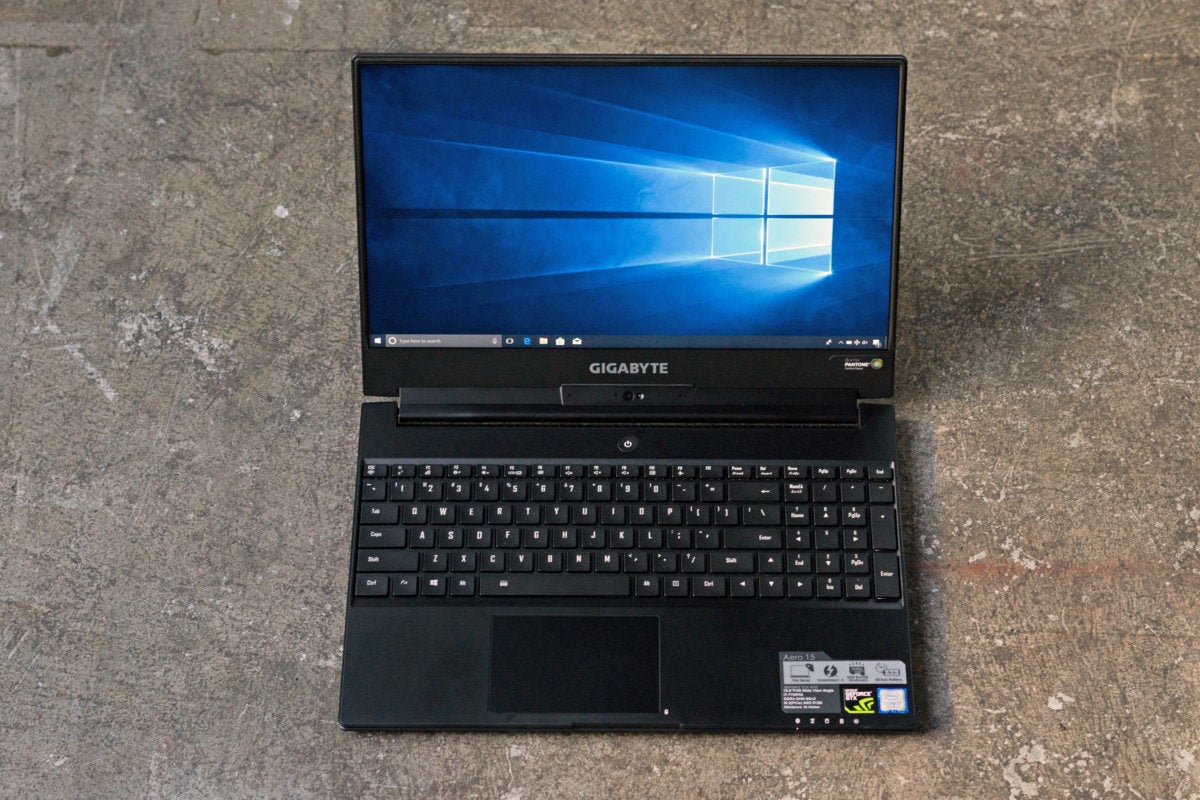 The real magic of the Aero 15X is the use of a giant battery, which gives it decent battery life in non-gaming use. By "non-gaming" we mean web browsing, productivity and other not-fun tasks. :ike any laptop with a GPU, once you crank it up, don't expect more than an hour or two out of it.
There are sacrifices to be made for that battery life: There's no G-Sync, there's no high-res 4K panel, and, well, the audio could be louder. But when you consider that you're getting GeForce GTX 1070 Max-Q performance in a sub-5-pound laptop, who can complain?
[$2,200 as reviewed]
Runner-up
Nvidia's Pascal GPUs have accomplished a lot. They've put the traditional beefy gaming laptops on a par with desktop machines. They've also upgraded the term "portable gaming laptop" from an oxymoron to a reality. Put a GTX 1060 into a laptop, and you have a capable machine that can survive away from a wall socket—and won't break your back carrying it, either.
Now, at five pounds, the Alienware 13 (available at Dell.com) is a little heavy for its size—but it's worth toting around those extra ounces. The model we reviewed packed a gorgeous OLED 2560x1440 display, a quad-core i7 processor, and a VR-capable Nvidia GTX 1060 for flawless 1080p gaming. (Yes, you can play at 2560x1440, too, if you crank down some of the settings...or buy an Alienware Amplifier and pop in a beefier video card.) 
Its extra weight comes from its incredibly sturdy and solid chassis, built to withstand hot climates and gamers who react physically to the highs and lows of gameplay. For some, that'll be a drawback. But it's hard to hold the Alienware 13's design against it, especially after experiencing the pure luxury of its OLED screen. Gaming on it makes the best LCD panels seem pixelated and washed-out.
While performance is a hair under that of rival machines like the MSI GS63VR, the difference is almost negligble—just one or two frames fewer per second in our Tomb Raider and Middle-earth: Shadow of Mordor benchmarks. If you can splurge on this version of the Alienware 13, we say do it. From its slick design to its performance, battery life, and OLED display, it's exceptional in every metric we usually examine.
[$2,099 MSRP as reviewed]
Best luxury laptop: Microsoft Surface Book 2
Years after its release, it's still very difficult to find a class to put Microsoft's Surface Book-series of laptop / hybrid / tablet / convertibles / dunno (review here.) If there is one place we could put it, though, it would be in the "stupidly fast" category.
With the Surface Book 2, our top pick for all-out luxury laptop (our test unit costs $3,299), Microsoft basically took its original Surface Book, put it into the copier and hit Enlarge. What you get is a new Surface Book with a 15-inch 3:2 aspect ratio screen, a quad-core 8th-gen CPU, and ta-da: a GeForce GTX 1060 GPU.
That's basically enough firepower to run modern games at 1080p+ on Very High to Ultra settings. You get all that with the expected futuristic design of the Surface Book 2, and what is arguably the most powerful tablet convertible we-still-don't-know-what-to-call-it device around.
Is there a gotcha? Yes, and it's something you should know: The Surface Book 2 has a slight problem with its power (documented here). Microsoft bundled a slightly undersized power brick for the amount of hardware it packs. As a result, under heavy GPU and CPU loads, the battery will start to discharge slowly—by as much as 15 percent in our tests. At that point (when set on maximum performance), it holds the line because the GPU has heated up enough that it begins to throttle back on power consumption, basically reaching an equilibrium.
Should Microsoft have included a slightly bigger power brick to compensate or maybe used an Nvidia Max-Q part? Probably. Is this a deal-breaker? Nope. This is an amazing amount of graphics performance in an amazingly portable machine. In fact, there's a good chance the GTX 1060 here, even set at a somewhat slower clock speed, will be untouched by the upcoming crop of Kaby Lake G laptops in graphics performance. 
All we know is, if you're looking for lots of power in a portable package with some style and class, today, it'd be hard to beat the Surface Book 2. 
[$1,499–$3,299 MSRP; $3,299 MSRP as reviewed. Available on microsoft.com]
Best high-end Chromebook: Google Pixelbook
Google's own Pixelbook sets the standard for all Chromebooks, and then some. The successor to the flagship Chromebook Pixel is pretty, for sure, with its glass panels and gorgeous screen. It also flips around 360 degrees to function as a tablet, and it offers pen support with apps that nurture artistry as well as plain, old note-taking. Battery life is fantastic at a projected 11.67 hours.
Now that Chromebooks support Android apps, the Pixelbook is the ultimate expression of what you can do with this platform. And the most expensive. So check out our favorite budget Chromebook below for a similar, far more affordable alternative.
[$1,199 MSRP; available on Amazon]
Best budget Chromebook: Asus Chromebook Flip
Most Chromebooks are budget models, but the Asus Chromebook Flip (C101PA-DB2) has an extra talent: It can rotate backward into a 10.1-inch tablet. Now that Chromebooks can run Android apps, too, the Flip is a versatile as well as affordable machine.
The Chromebook Flip is powered by the new OP1, a no-name processor made by Rockhip with help from Google that will handle everything you throw at it just fine. Just note that the Flip is a bit small for day-long productivity with adult-size fingers, though fine for the hands of children.
 [$300 MSRP; available on Amazon]
Best MacBook: MacBook Pro 2017
Apple's laptops might not be game-changing or cheap, but they don't need to be. Paying more for the same kind of hardware you'd find in a Dell, HP, or Asus laptop is the entry fee for access to macOS and its integration with iOS devices.
Of the options available, we think that the $1,499 13-inch MacBook Pro (available at Apple.com) provides the best balance of value and performance. While the MacBook Air is more affordable, this MacBook Pro features faster hardware and a higher-resolution screen. It also has a far better keyboard than the smaller and lighter 12-inch MacBook.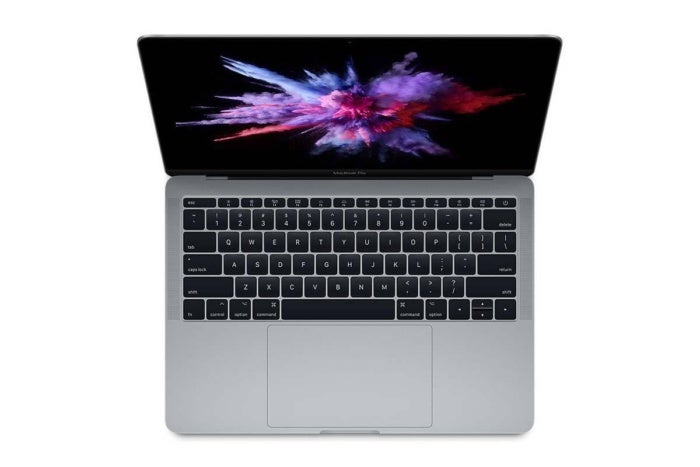 This particular model offers a 7th-generation 2.3GHz Intel Core i5 processor, 8GB of memory, 256GB of flash storage, Iris 540 integrated graphics, a 2560x1600 screen, and two Thunderbolt 3 ports. If you want Apple's new Touch Bar as a feature, you'll need to upgrade to the $1,799 model. The $1,799 model also offers a faster 3.1GHz Core i5 processor, a TouchID biometric sensor, and two additional Thunderbolt 3 ports.
The main downside to the MacBook Pro is that its ports are all USB Type-C connections. While they all support the Thunderbolt 3 spec and thus allow you to use them for DisplayPort output, charging, and data transfer, it does mean you'll need to buy adapters or a dock to use USB-A devices and wired LAN connections.
You can read more about the MacBook Pro and its recent upgrades at our sister site, Macworld.
[$1,299–$2,799 MSRP; $2,799 as reviewed by Macworld.]
Shop Tech Products at Amazon