Page 2 of 2
What you need to upgrade for Ryzen
Speaking of motherboards, you'll need a new one for Ryzen. AMD's ditching its old platforms and unifying its processors around motherboards using the new AM4 socket.
Ryzen motherboards drag AMD systems into the current era, with support for modern amenities such as 10Gbps USB 3.1 gen. 2 ports, NVMe storage, M.2 SSDs, et cetera. There are several different chipsets available for AM4 motherboards that can significantly affect your system's features, however. For example, A320 motherboards won't let you overclock your processor, while multiple graphics cards are only supported by X370-based motherboards. Be sure to read PCWorld's guide to AMD Ryzen motherboards for a no-nonsense breakdown of what each AM4 chipset offers.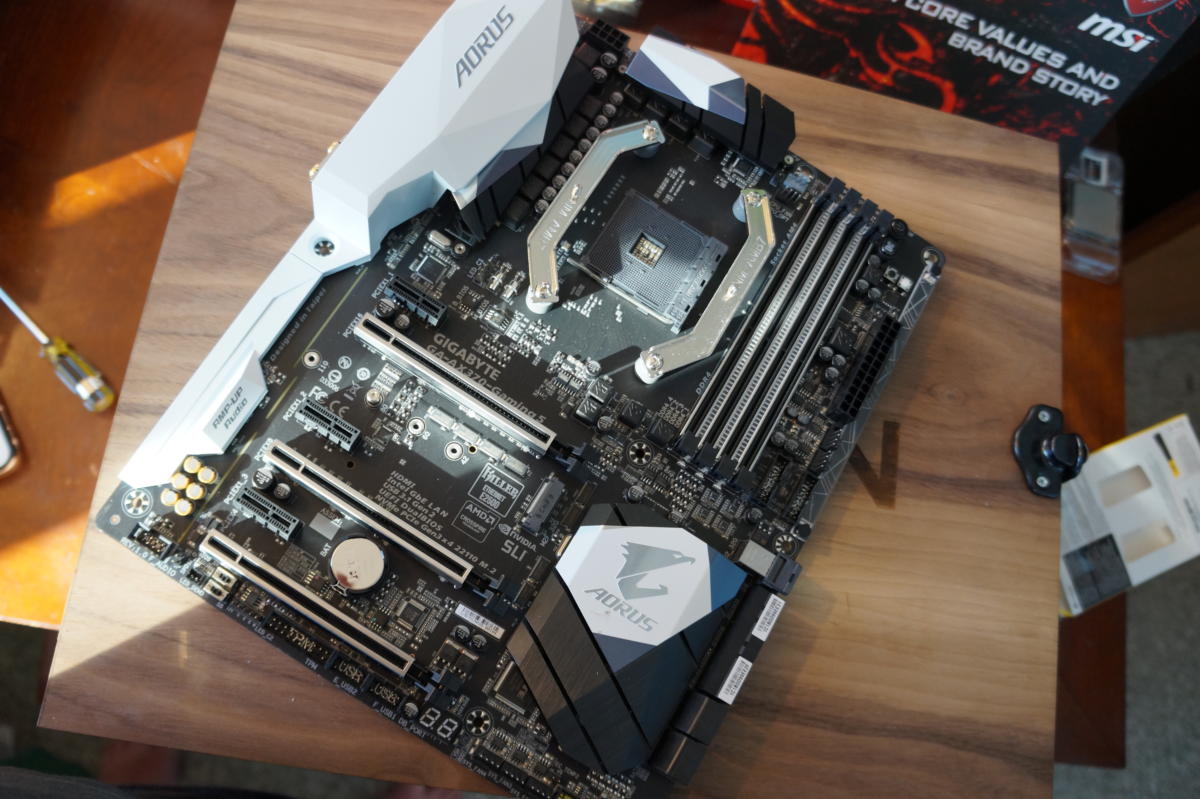 You'll need more than a new motherboard though. With Ryzen, AMD systems are moving from DDR3 to faster, more energy-efficient DDR4 memory, so you won't be able to transfer over the RAM from your old PC unless you're migrating from an Intel Skylake, Kaby Lake, or recent Extreme Edition machine. The bad news: Memory is expensive this year. 
Ryzen's performance is sensitive to memory speeds, so be sure to hop into your system BIOS and ensure your RAM is running at its advertised speeds. Most systems will run it at JDEC-standard 2133MHz by default rather than the rated timings and voltages for your specific kit.
You might need a new CPU cooler as well. The 1331-pin AM4 socket (so close to 1337!) has about 100 more pins than older AM3 boards, so it needs new mounting hardware, and hence, new coolers. Existing AM3 coolers that secure to the processor using clips rather than bolts through the motherboard should still work with Ryzen, however, and many third-party manufacturers of older AM3 CPU coolers will send you AM4 mounting brackets if you ask. If you've already dropped big money on cooling for an existing AMD system, the high-end Asus Crosshair VI Hero motherboard ($255 on Amazon) includes both AM3 and AM4 mounting holes to support all sorts of coolers.

You might not need to worry about cooling if you buy the right processor, though. Every Ryzen chip besides the Ryzen 7 1800X, 1700X, and Ryzen 5 1600X ships with one of AMD's Wraith coolers. The Ryzen 7 1700 ships with the Wraith Max; the Ryzen 5 1500X and 1600 will include the Wraith Spire; and the Ryzen 5 1400 includes the Wraith Stealth. Only The Wraith Max includes swanky RGB lighting.
Ryzen operating systems
Windows 10 is the only Microsoft operating system supported by Ryzen. (Linux works, too.) You'll still be able to install Windows 7 or 8 on a Ryzen PC if you want, but if something goes wrong—and that's very possible with a new CPU architecture on a new motherboard platform—you won't get any technical assistance from Microsoft, AMD, or anybody else. There won't be any official Windows 7 drivers released for Ryzen, either.
Good luck.
Ryzen performance tips and tweaks
That's all you need to know about buying a Ryzen processor. But if you pick one up, here are five tips and tricks—most straight from AMD—that might help you eke out even more power from this fresh-faced new platform. (Once again: Overclocking can really bolster Ryzen's speed.)
1. Use a clean Windows installation rather than a Windows image configured on another processor.

2. Switch Windows 10's power plan from the default "balanced" to "high performance."
The high-performance plan—found in the Power Options section of the Windows Control Panel—ensures "that the SenseMI Pure Power and Precision Boost technologies have the ability to respond to varying workloads as quickly as 1ms," AMD says. "The default 'Balanced' permits the operating system to request which P-State (or clock speed) to use, which typically trends to a 30ms response time. Selecting 'High Performance' hands over control from the OS to the processor completely, allowing fine-grain control and maximum performance of the processor."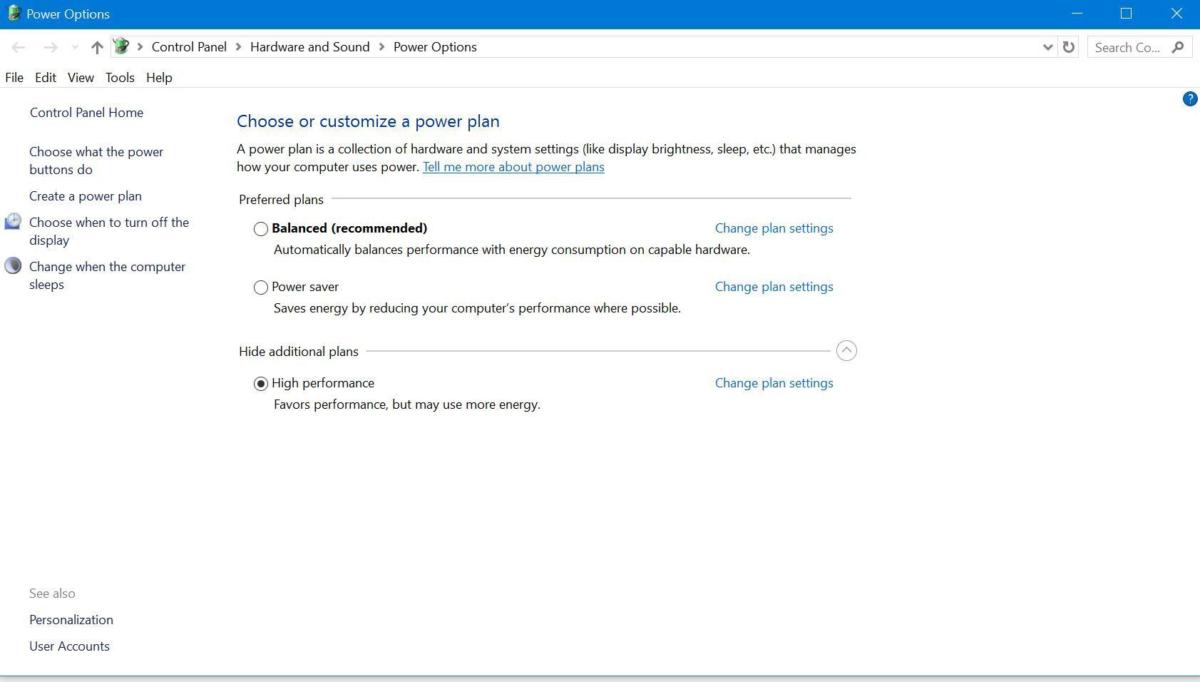 In PCWorld's testing, we saw up to 5 percent more performance on the high-performance power plan, depending on the workload.
3. Disable the Windows High Precision Event Timer.
"Make sure the system has Windows High Precision Event Timer (HPET) disabled," AMD says. "HPET can often be disabled in the BIOS. Alternatively: From Windows, open an administrative command shell and type: bcdedit /deletevalue useplatformclock—this can improve performance by 5 to 8 percent."
Now for the bad news: AMD's own Ryzen Master overclocking tool relies on HPET for accurate chip measurements, so if you take this step to improve gaming performance, you won't be able to make use of this feature. Pick your poison.
4. Disable simultaneous multithreading in the BIOS.
Simultaneous multithreading—the equivalent of Intel's hyperthreading, essentially—is one of Ryzen's major new additions. SMT turns Ryzen's eight cores into 16 computing threads and is crucial to Ryzen's appeal in content-creation and productivity tasks. That said, if you're looking to squeeze a wee bit more juice out of Ryzen's gaming performance, AMD says disabling SMT in your system's BIOS does just that.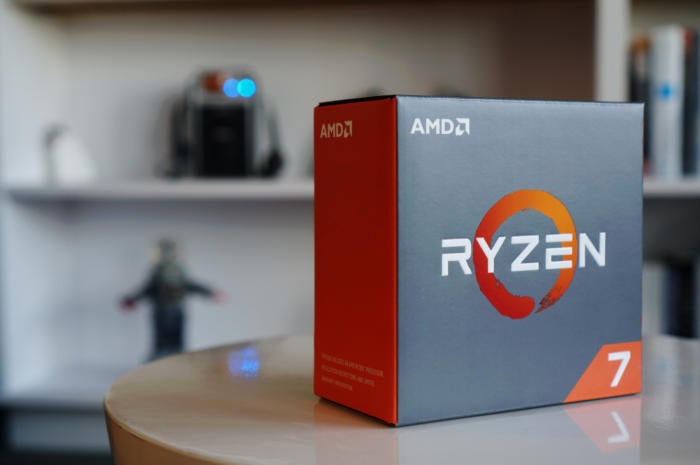 GamersNexus tested Ryzen with SMT enabled and disabled and found the gain to be fairly modest in everything but Total War: Warhammer, though. We'd recommend that the vast majority of people leave SMT enabled.
5. Update your motherboard BIOS.
Usually we strongly recommend leaving your motherboard BIOS alone if your computer's running well, since a mistake during updating can potentially brick your hardware.
But!
AMD's Ryzen is a brand-new architecture running on a brand-new AM4 motherboard platform. Motherboard BIOS revisions released during the review process greatly increased speed and stability for the chips, and we wouldn't be surprised if additional updates roll out in the weeks and months to come with further improvements. Because of that, you may want to keep an eye out for new BIOS revisions on the support and downloads page of your chosen motherboard. If something major appears, consider installing it.
PCWorld's guide to updating your BIOS can walk you through the procedure. But before you start the procedure, enter your computer's BIOS (a button prompt during your PC's start-up process will explain how) and use your motherboard's firmware update tool or flashing tool to back up the existing firmware to your flash drive—just in case something goes wrong.
Editor's note: This article originally published on 3/8/2016, but has been updated repeatedly as new Ryzen details emerge.
This story, "Ryzen CPUs explained: Everything you need to know about AMD's disruptive multicore chips" was originally published by PCWorld.