RAVPower 26800 review: A plentiful USB-C equipped pack with a number of ports
Using the USB-C port, you can recharge this pack in just a few hours.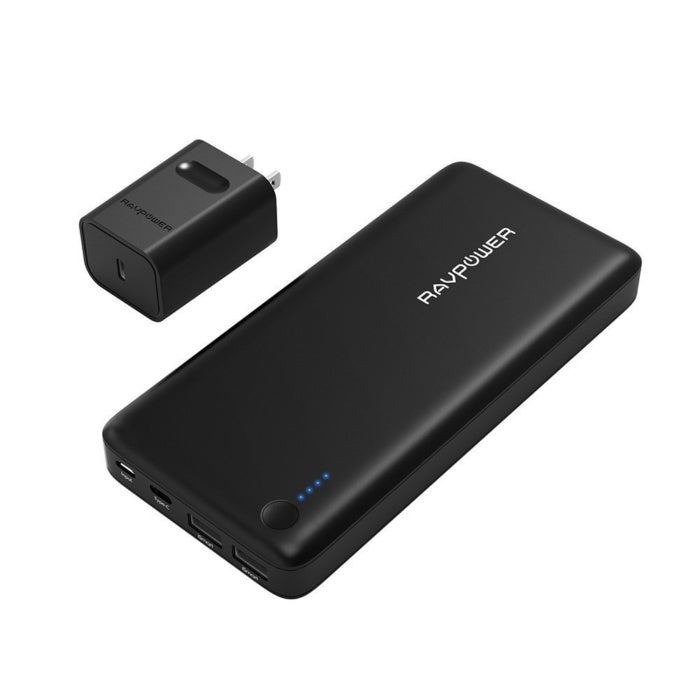 Note: The following is part of our roundup of USB-C battery packs. Go there for details on how we tested this device.
The RAVPower 26,800 mAh (99.16Wh) ($65 on Amazon) battery pack is sleek and unassuming. Four indicator lights just above the power button blink and flash blue as the device is charging or discharging.
Four different ports adorn the front of the pack, with a microUSB port for charging, a USB-C port for charging or powering your phone, along with two USB-A ports with RAVPower's "iSmart" technology.
Using its smarts, the RAVPower pack is supposed to detect and adjust current up to 2.4A, with a max of 3.5A output across all ports.
Total charge time through the microUSB port was nearly 11.5 hours, charging at 5V and 1.7A (out of an expected 5V/2A). Charging through USB-C using the company's included wall adapter drastically decreased charging time to four hours.
The biggest downside is the lack of QuickCharge 2.0 and 3.0 support. RAVPower does offer another mode with QC 3.0 and USB-C support; In exchange for faster charging, you lose a bit of capacity dropping the pack down to 20,100 mAh.
In testing, the battery stopped depleting at 81.33Wh, giving it an efficiency rating of 82%. Unfortunately, 82% puts it on the bottom half of the packs tested, just below the Anker PowerCore+ 85% efficiency, despite nearly identical capacity and capabilities.
Inside the box you will find a 30W Type-C Charger (something Google employee Benson Leung suggests you do not use with your phones, though it should be fine to charge this battery pack), a carrying case, and 2 microUSB cables.
This story, "RAVPower 26800 review: A plentiful USB-C equipped pack with a number of ports" was originally published by Greenbot.
At a Glance
RAVPower 26800mAh Portable Charger

Greenbot Rating

The RAVPower is somewhat compact, has handy indicator lights, but fails to rapidly charge a compatible smartphone.

Pros

Charges through microUSB or USB-C
Recharges incredibly fast through USB-C
Included case

Cons

No QuickCharge 2.0 or 3.0
Shop Tech Products at Amazon
Popular on TechConnect
Start your new computer off right with solid security tools, productivity software, and other programs...
Our top picks feature the best tech advances in portable PCs, from new CPUs and GPUs to new materials.
These graphically intense PC games crank the eye candy to 11—and make your PC sweat while they're at...
The Huawei Watch 2 Classic isn't a bad watch by any means, but it doesn't meet the lofty expectations...
Music streaming services are great. If you'd like to try one, Amazon is offering two months for free...
A website with an image directory that uses $MFT in its name is enough to crash Windows 7 and 8 PCs.