Aukey 30000 PowerBank review: Don't let its price or looks fool you, this battery pack does it all
It looks more like a brick, but Aukey 30000 PowerBank has QuickCharge 3.0, USB-C, and a flashlight.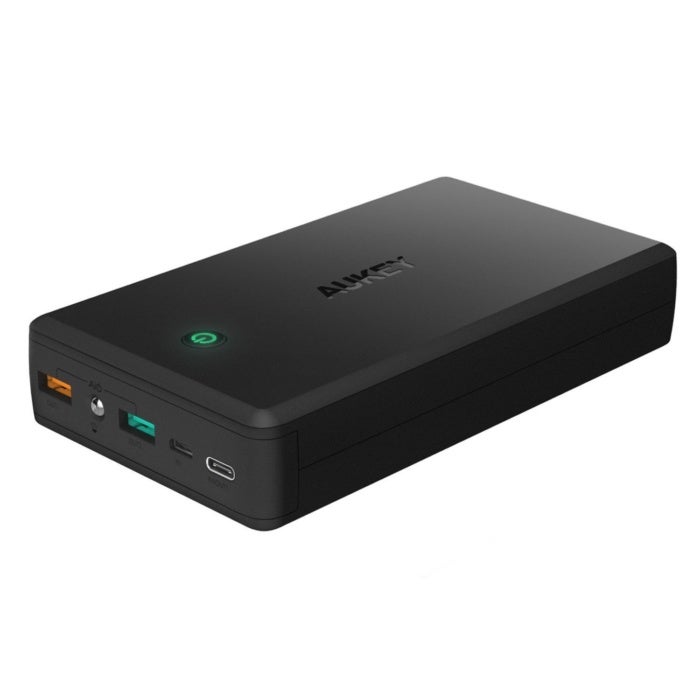 Note: The following is part of our roundup of USB-C battery packs. Go there for details on how we tested this device.
The $46 Aukey 30000mAh Type-C Power Bank ($44.99 on Amazon) is a mixed experience. On the one hand, it offers true Quick Charge 3.0 support and a USC-C port.
On the other, its giant 30,000mAh (111Wh) battery isn't the most efficient. During the discharge test, the power bank reported 89.10Wh of power released, amounting to 80.27% efficiency. It's not a horrible number, but it's not the best out of the bunch.
If you've ever picked up a brick, you already have a good idea of the overall shape, size, and weight of the battery pack. Aukey more or less slapped a plastic housing around the internal batteries and circuitry and called it a day.
On the top of the pack is a power button, which you'll need to press before the pack begins charging any connected devices. If you continue to hold the button in, there's a small flashlight that turns on, helping you find your way in the dark.
At first, the thought of a small light being built into a battery pack is a bit puzzling. But after more thought, I can see the value in having a flashlight built into a battery pack during a power outage. The first thing I usually reach for is a flashlight, followed by a battery pack.
The front of the pack has four ports. A USB-C port for charging the pack, or charging another device. A microUSB port for charging the pack only. And then two standard USB-A ports. The orange colored port is the QC 3.0 port. The green color port is a standard 5V/2.4A charging port.
The ports work as advertised, triggering QC 3.0 on the LG G5 and rapidly charging the Pixel XL using the USB-C port.
Charging the power bank took 9:43, beating the similarly sized ToughJuice pack by nearly 4 hours.
Included with the pack is a USB-A to USB-C cable.
This story, "Aukey 30000 PowerBank review: Don't let its price or looks fool you, this battery pack does it all " was originally published by Greenbot.
At a Glance
30000mAh Type-C Power Bank

Greenbot Rating

It's ugly and isn't as efficient as similar battery packs, but it offers QC 3.0 and a USB-C port. Did I mention it's only $46?

Pros

Recharges relatively fast
Added bonus of a flashlight
QuickCharge 3.0 support

Cons

Not as efficient as other packs
Ugly design
Shop Tech Products at Amazon
Popular on TechConnect
Start your new computer off right with solid security tools, productivity software, and other programs...
Our top picks feature the best tech advances in portable PCs, from new CPUs and GPUs to new materials.
These graphically intense PC games crank the eye candy to 11—and make your PC sweat while they're at...
The Huawei Watch 2 Classic isn't a bad watch by any means, but it doesn't meet the lofty expectations...
Music streaming services are great. If you'd like to try one, Amazon is offering two months for free...
A website with an image directory that uses $MFT in its name is enough to crash Windows 7 and 8 PCs.