ilumi A19 LED Smartbulb review: The smart light bulb for the security conscious
This bulb claims to be the brightest Bluetooth bulb on the market, but its light is cooler than expected.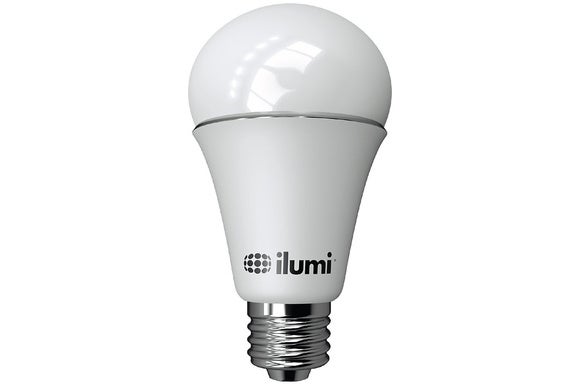 The latest generation of ilumi's Smartbulb has a considerably updated look that is now reminiscent of a high-tech ice cream cone, but its core technology remains largely the same. Most notably, the bulb still uses a Bluetooth connection to pair with your phone, and it's still rated for 800 lumens (by far the brightest Bluetooth bulb of those we've seen lately).
What ilumi has done is taken steps to update its app, and in fact it's in the process of beta-testing a new control app that is due to be formally released in November. Users today can use both the existing app and the new one (listed as "new ilumi" on the App Store) to control their bulbs, switching between the two at will.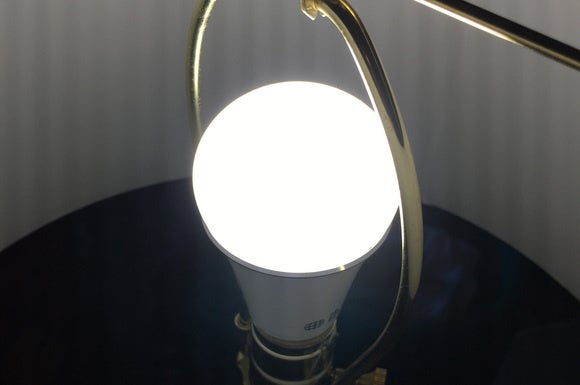 As with any Bluetooth bulb, setup of the ilumi A19 is fairly painless, although ilumi still requires users to set up a password-protected account before pairing a bulb to their phone. It's an extra step that other Bluetooth bulbs in this roundup don't require, but if you're concerned about IoT security (and arguably you should be), then you might see this little speed bump as a plus.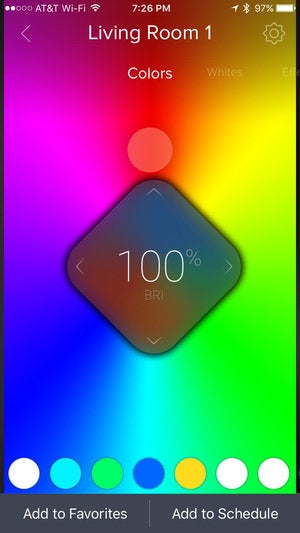 Even though it's in beta, ilumi's new control app is an improvement over the old one, using a more intuitive swipe system to bounce among color settings, white light settings, and various effects. A robust scheduling system is also included, which gives you a convenient, color-coordinated look at your lighting schedule, day by day.
The control system works well on the whole, with a single exception: It's too easy to mis-swipe and accidentally, say, turn your light color purple when you were really just trying to swipe over to the "Whites" pane. We hope oddities like this will be remedied as the app emerges from beta.
My biggest issue with the latest ilumi bulb, however, is that even though it's rated for 800 lumens, the bulb feels dim on the whole. While colors pop nicely, whites seem a bit cold in comparison to what they're supposed to be mimicking. "Natural White" feels a lot like "Greenish Office Fluorescent" to me, though admittedly that name probably didn't sound appealing enough to use in the interface.
This story, "ilumi A19 LED Smartbulb review: The smart light bulb for the security conscious" was originally published by TechHive.
At a Glance
ilumi A19 LED Smartbulb

TechHive Rating

ilumi's revamped bulb is a step up from last year's model, but it still doesn't match the best bulbs on the market.

Pros

Redesigned control system is much more intuitive
Bulb design is one of the most attractive on the market
Works on a limited basis with wired dimmer switches, the only bulb we've seen lately to do so

Cons

Setup is a slog requiring account creation and login to use
Bulb feels dim considering its brightness rating
Most white colors seem too cool
Shop Tech Products at Amazon
Popular on TechConnect
Start your new computer off right with solid security tools, productivity software, and other programs...
Our top picks feature the best tech advances in portable PCs, from new CPUs and GPUs to new materials.
These graphically intense PC games crank the eye candy to 11—and make your PC sweat while they're at...
A website with an image directory that uses $MFT in its name is enough to crash Windows 7 and 8 PCs.
The Roomba 650 Vacuuming Robot provides a thorough clean, all at the push of a button. The patented,...
AMD's AGESA 1.0.0.6 adds 26 new memory parameters for enthusiasts to tinker with, while pushing...