Update
Best Android phones 2017: What should you buy?
Picking an Android phone can be difficult, but we're here to help. These are the top Android phones you should consider bringing home.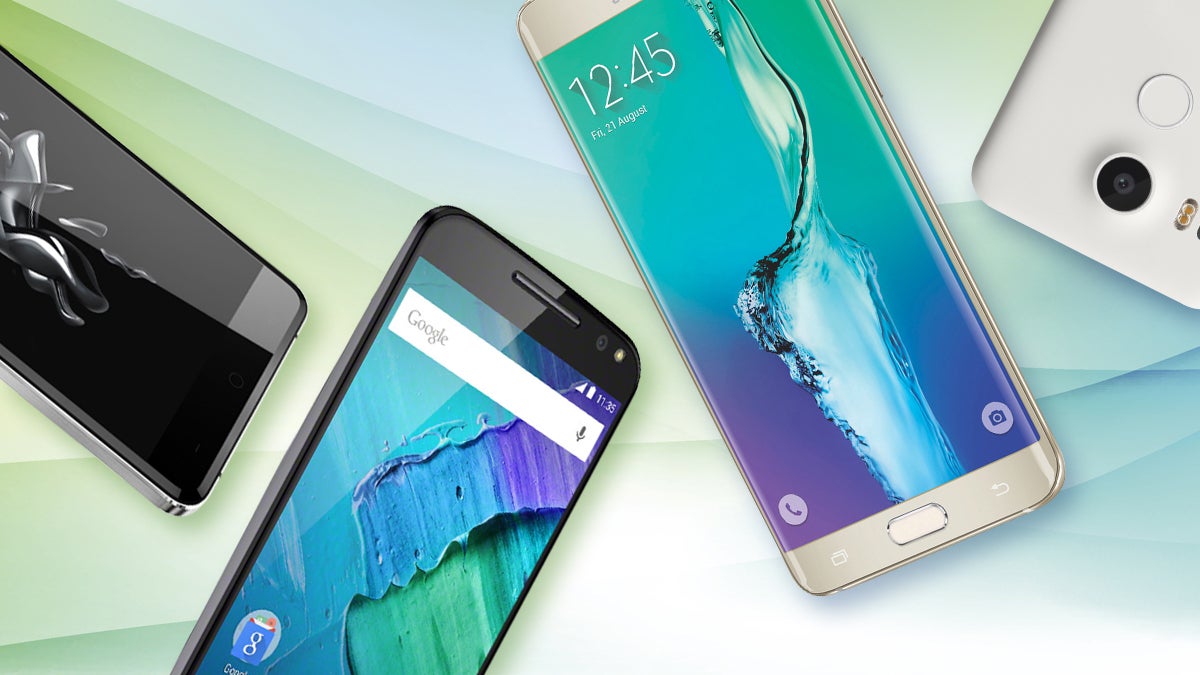 Updated 08/14/17: The Asus Zenfone AR is the best Android phone if you want to Tango with augmented reality. Check out our new category, Best phone for Tango, for details.
Choosing a new Android phone isn't easy. The Android universe is teeming with options, from super-expensive flagship phones, to affordable models that make a few calculated compromises, to models expressly designed for, say, great photography. 
Chances are that whichever phone you buy, you'll keep it for at least two years. So choosing the best Android phone for you isn't a decision you should take lightly. But we can make things easier. Everyone has different priorities and needs, so we've made some picks for the best Android phone in several categories. 
At the bottom of this article, we also list all our recent Android phone reviews—in case you have your eye on a model that doesn't make our cut.
Best overall phone
Samsung's flagship phones are usually quite good, but the Galaxy S8 and S8+ really pull out all the stops and deliver a phone that is more polished, usable, and technically impressive than ever before. Inside and out, this phone is a masterpiece.
The gorgeous design is built around a big, tall 18.5:9 aspect ratio AMOLED display that delivers the best brightness, contrast, and color we've ever seen. The new form factor isn't just good looking, it's more comfortable and usable, too.
Inside you'll find the first phone with a 10nm Snapdragon 835 chip, which gives it top-tier performance and excellent power efficiency. In fact, these phones performed just great in our battery benchmarks (roughly 9 hours), with real-world use easily taking us through a busy day. 
There are so many features it's hard to list them all. Bluetooth 5, support for future gigabit LTE, wireless charging (Qi and PMA), iris scanner, Samsung Pay and Android Pay support, USB-C, headphone jack, IP68 water proofing, microSD card support... for such a smooth, slim, attractive phone, it sure packs in a ton of "stuff."
Samsung's software is better than ever, too. 
You still have to contend with far too much bloatware and from Samsung and carriers, and the fingerprint sensor is placed in a terrible location. But these sore spots are relatively minor distractions from a phone that does more, looks better, and is more delightful to use than anything else on the market.
Best phone for photographers
You really can't go wrong with the Pixel or the Galaxy S8 if you just want to take your phone out of your pocket, snap the shutter, and then put it away knowing you got a great shot. But if you're a dedicated smartphone photographer, the LG G6 is the phone you'll want. It features a dual-camera setup with one standard and one wide-angle lens, both of which use the same Sony IMX258 sensor (13 megapixels with 1.12 micron pixels). The main camera has optical image stabilization and an f/1.8 aperture, while the secondary lens has an  f/2.4 aperture and no OIS.
But the dual-camera system isn't for wide-aperture portrait shots (in fact, there isn't an option for that in the app). Rather, LG's second camera lets you shoot wider angle shots than any other phone. And even if you just take the G6 out of your pocket and start shooting, you're bound to get photos as good if not better than the Pixel, which is high praise. In fact, we pitted the G6 against the best camera phones on the market, and while it wasn't an across-the-board winner, it's still the clear overall pick.
The real killer feature of the LG G6 may be its camera app, which is stacked with manual controls—unlike the barebones approach of the Pixel. What's more, the G6's 18:9 screen can be divided into two two perfect squares, and LG takes full advantage of the unique proportions. Enter Snap Shot mode, and you can see your latest shot alongside the viewfinder window. Or check out Match Shot to snap images with the front and rear cameras simultaneously.
Bottom line: The G6 doesn't beat the Pixel of Galaxy S8 in all photo scenarios, but it's an extremely close contest. And you'll definitely have more fun with the G6 than with any other camera phone.
Best phablet (over 5.5 inches)
Every bit as good as the Galaxy S8, and probably better, the Galaxy S8+ simply bumps up the screen size to 6.2 inches and increases the battery size from 3,000 to 3,500 mAh.
In our battery benchmarks, the bigger screen offset the larger battery size, and the two delivered similar results. But that's with the screen on all the time. In practice, the bigger phone should have longer screen off time thanks to the larger battery, and will probably have a little more gas in the tank at the end of the day.
Don't be freaked out by that 6.2-inch screen size, either. Thanks the the 18.5:9 aspect ratio, it's not hard to hold. It's probably best to think of this as a "5.5-inch screen, only taller." Couple that with Samsung's impressively slim bezels and 83% screen-to-body ratio, and you've got a giant display that is remarkably easy to hold and use.
All the benefits, and quirks, of the Galaxy S8 apply to the big version. Which should you get? It's a matter of personal preference, but we recommend seeing them in person first, if you can. You might be surprised at how usable, and pocket-able, this big phone is.
Oh, and it's expensive, too. $850 or so, making it more than $100 pricier than the regular S8.
Best phone for Tango
Augmented reality is the tech buzzword of the moment, and Google has its own platform for AR called Tango. However, unlike Pokemon Go, Tango requires some serious hardware specs to function, and there are only two phones able to run its apps, the Asus Zenfone AR and Lenovo Phab2 Pro. And one of them is clearly superior.
If you're looking to test out Google AR apps, Asus's Zenfone AR is the best option. It has a Snapdragon 821 chip, up to 8GB of RAM, and up to 128GB of storage. But what makes it Tango-ready is its impressive camera array. It has three rear cameras: one 23MP main one, along with motion-tracking and depth-sensing cameras dedicated to AR. Its 1440x2560 Super AMOLED display is crisp and vibrant, and handles tracking with ease. Add it all up, and you've got a device ready to tackle today's AR apps (and probably tomorrow's too).
But what gives the Zenfone AR its edge over the Lenovo Phab2 Pro is its size. With a slim frame and a 5.7-inch screen, it fits comfortably in your pocket and your hands, and feels more like a phone than the 6.4-inch Phab2 Pro. And it's even compatible with Google's Daydream VR platform, so you'll be on the cutting edge of both sides of reality.
And while Tango is still an emerging platform, there are more than enough apps to keep you occupied, like Wayfare View for 3D shopping and Google Measure. The Zenfone AR isn't perfect, but if you want AR in your life, it's the only phone you should buy.
Best budget phone ($300 or less)
There was a time when the words "budget" and "Android" conjured images of disposable, plastic phones with small screens.
The Moto G5 punches way above its weight with a quality 5.2-inch 1080p display, metal body, fingerprint sensor, and a very decent camera for its price. For $230 you get 32GB of storage and 2GB of RAM with a Snapdragon 625 processor, or for $300 you can bump that up to 4GB of RAM and 64GB of storage. 
Not only that, but it's fully 4G LTE compatible on all four major U.S. carriers—something that not a lot of budget phones can claim.
The phone has its drawbacks, including microUSB instead of USB-C and a lack of NFC, not to mention that the camera is adequate but doesn't hold up against top-end phones. 
As a complete package, though, the build quality, specs, performance, battery life, and software experience here is way better than we're used to seeing in the $200-300 price range.
Best bang for the buck
While most of the Android phones that reach carrier shelves are either premium ($650 or more) or budget ($300 or less), there are still various unlocked phones that fill the gap in between. And the leader of the pack is the OnePlus 5.
OnePlus phones seem custom-designed to own this mid-range market segment, and the OnePlus 5 delivers like other OnePlus models before it. Inside it's got the best smartphone silicon money can buy: a Snapdragon 835 processor, 64GB or 128GB of UFS 2.1 storage, 6GB or 8GB of RAM, Bluetooth 5, and a 3,300mAh battery. OnePlus hasn't done anything to upgrade its predecessor's screen, but it's still a respectable 1920x1080 Full HD AMOLED display. And all the usual trimmings are here, including a super-fast fingerprint scanner/home button, USB-C port, alert slider, and headphone jack.
The OnePlus 5 also includes a new dual-camera system that pairs a custom Sony IMX398 16MP sensor with a 20MP telephoto sensor. Furthermore, OxygenOS has been updated to Nougat 7.1.1, and it's as clean and bloat-free as it's ever been.
The OnePlus 5 costs either $479 or $539 depending on how much storage and memory you want, pushing the phone awfully close to premium territory. And if you're a Verizon or Sprint customer, you still won't be able to pop in your SIM. But for the performance and battery life the OnePlus 5 delivers, you won't be able to find a better bang for your buck.
How we test Android phones
First and foremost, we spend at least several days with the phone under review, treating it as if it were our one and only. No number of lab tests or benchmarks will tell you as much about a phone as living with it for awhile. We're concerned with real-world performance, stability, interface usability, camera quality, and whether proprietary features are useful or cumbersome. We use social media, check email, play games, take photos and videos in a variety of conditions, navigate around town, and do all the things most people do with their phones.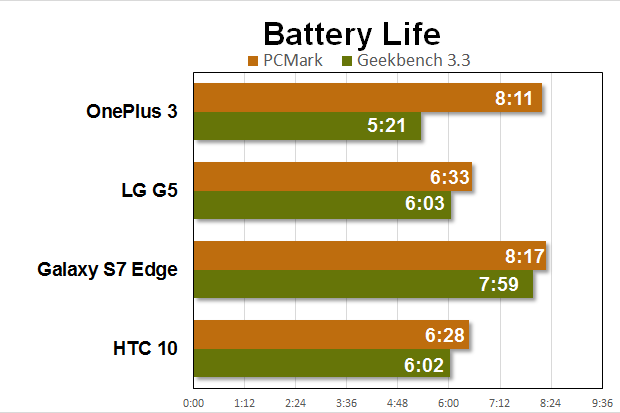 Of course, we also run extensive benchmarks: 3DMark (both Ice Storm Unlimited and Sling Shot), PCMark, GFXBench, AnTuTu, Geekbench, and Vellamo. We run all our tests with the phone set up the way it would be out of the box, without disabling any pre-installed apps or services. We do, however, make efforts to make sure benchmarks are not interrupted by notifications and that background downloads aren't taking place. We may not report results from all of these tests (real-world everyday performance is far more important than benchmarks), but we do share the most interesting results.
Before running each benchmark, we make sure the phone is charged to 100 percent, plugged in, and left to cool off. Phones can sometimes run slower as their batteries get low, and charging the phone can make it hot and cause the SoC to slow down. So we do our best to make sure every test starts with the phone topped off and at room temperature.
When we run battery benchmarks (PCMark and Geekbench), we calibrate the display to 200 nits and disable all auto-brightness and screen-dimming features. Display brightness plays a major role in draining your battery, and we want to create a level playing field. Of course, we also keep a close eye on how long the battery lasts in our everyday use, including screen-on time, standby time, and even how fast the battery charges with the included charger.
What to look for in a phone
Smartphones are very personal. Everyone has different needs, a unique budget, and personal preferences. You might need to access secure corporate email and documents with a phone that works on lots of networks around the world. Or you might spend all your time chronicling your life on Snapchat.
That said, there are major features of all smartphones that you should compare before making a purchase decision.
Display: A good display has a high resolution (1920x1080 for smaller phones, 2650x1440 for larger phones), so that you can read fine text without it becoming blurry or illegible. A high-resolution display is especially important for VR. You want a display that accurately displays colors when looking at it from any angle, and a high contrast ratio and maximum brightness will make it easier to see in bright sunlight.
Shop Tech Products at Amazon