Terk Horizon indoor amplified antenna review: A good antenna need not be ugly
Hats off to Terk for building an indoor antenna that can blend into a room's decor.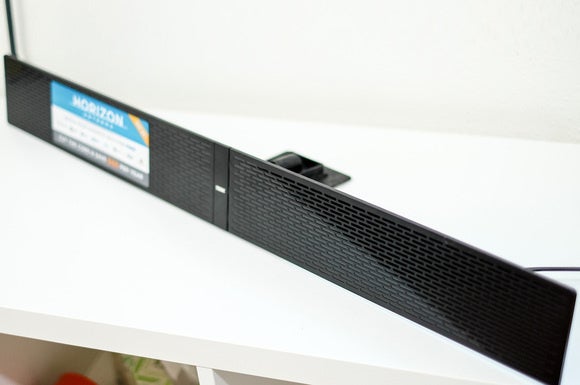 At a Glance
Terk Horizon Amplified Indoor HDTV Antenna

TechHive Rating
In a market where looking good in the living room doesn't seem to be on the list of design priorities, Terk looks to start a new trend with its Horizon indoor amplified antenna available at Best Buy for $40).
Instead of lying flat on your TV stand, or finding itself pinned to a wall or taped in a window, Terk's Horizon looks more like a sound bar that rests on top of or in front of your TV—it barely looks like an antenna at all. Open the box and you'll find a customizable stand, a nine-foot coax cable, a power adapter, and a USB power cable in addition to the antenna itself.
The included stand snaps into the back of the antenna. You can stand the antenna in front of your TV, sound-bar-style, or attach it to the top of your TV using an adhesive strip. Alternatively, you can mount the Horizon on a wall using screws (which are not included).
I installed the Horizon in front of my TV, connected the power cable to an empty USB port on my television for power, connected the coax cable, and scanned for channels. The Horizon found 22 digital and one analog channel on its first scan (out of a possible 31 channels available in my area). The second scan fared worse, with the antenna bringing in 19 digital channels but not the lone analog channel. A third scan returned the same results, 19 and zero. After some adjusting and fidgeting, a fourth scan returned 2o digital channels and one analog one.
Confused by this inconsistency, I decided to remove the USB power cable from my and plug it into the included power adapter. All subsequent scans found 22 digital channels, and yes, the single analog channel. Perhaps my TV's USB port wasn't providing enough power for the Horizon's amp, or some other funky reason was causing the discrepancy. I simply don't know.
Once I was settled in with a consistent channel lineup, I can say nearly all channels came in clear. The further broadcast towers from my home are 41 miles away, and the Horizon claims a 60-mile range. Local stations such as NBC, CBS, ABC, PBS, and Fox all came in clear and in either 1080p or 720p resolution.
This story, "Terk Horizon indoor amplified antenna review: A good antenna need not be ugly" was originally published by TechHive.
At a Glance
Terk Horizon Amplified Indoor HDTV Antenna

TechHive Rating

The Terk Horizon is a stylish amplified antenna that looks more like a small sound bar. It delivers quality digital TV reception, as long as you use a proper power outlet.

Pros

Attractive industrial design
Good reception when using the AC power adapter

Cons

Reception can be finicky when powered by a USB port
No support for future 4K broadcasts
Shop Tech Products at Amazon
Popular on TechConnect
Start your new computer off right with solid security tools, productivity software, and other programs...
Our top picks feature the best tech advances in portable PCs, from new CPUs and GPUs to new materials.
These graphically intense PC games crank the eye candy to 11—and make your PC sweat while they're at...
The Huawei Watch 2 Classic isn't a bad watch by any means, but it doesn't meet the lofty expectations...
Music streaming services are great. If you'd like to try one, Amazon is offering two months for free...
A website with an image directory that uses $MFT in its name is enough to crash Windows 7 and 8 PCs.