The Fourth of July, Independence Day, celebrates our country's rebellion from tyrannical rule, and our establishment of a system of government by the people, for the people, and of the people. Though we often take it for granted, our country—for all its flaws—bestows more rights and freedoms on its citizens than anywhere else in the world. Here are 12 movies that remind us what we're celebrating.
Each of these patriotic films demonstrates the ideals and the spirit that made this country great, from the impulse to chip in and help out, to our legal systems, inventions, and freedom of the press. We have the power to think, fight, dream, and laugh without the urge to look over our shoulder too see who might be watching. These movies remind us that we can look up in the sky, breathe the summer air, maybe see some fireworks, and think, "It's good to be free."
Note: Look to the left and you'll find a new table-of-contents feature that gives you a complete list of the movies covered in this week's column. Click on the movie you're interested in to jump directly to Jeff's review.
Available on Netflix
Young Mr. Lincoln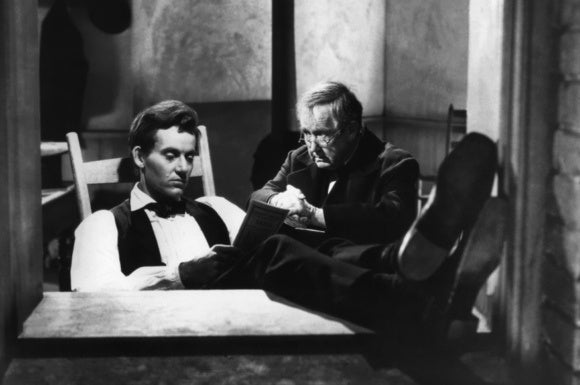 ★★★★★ 
For my money, Young Mr. Lincoln (1939) is the best July Fourth movie ever made. There was no more American filmmaker than John Ford, and his complete filmic output (with a few Irish exceptions) coalesce into a great American epic poem. His portrait of Abe Lincoln (Henry Fonda) as a young, idealistic lawyer in Illinois is full of life, beauty, warmth, schmaltz, romance, humor, and suspense. At the Fourth of July celebrations, Lincoln enjoys a pie contest (ever the diplomat, he can't decide which pie he likes better and keeps on sampling) and a tug-o-war match.
But at the celebrations, there is a murder, and two brothers are accused; both brothers claim responsibility, fearing that the other will go to prison. With effortless calm and unfailing reason, Lincoln gets in on the case and tries to crack the seemingly uncrackable mystery. Meanwhile, he also meets Mary Todd (Marjorie Weaver) and stumbles upon some of the things that would become his trademarks later in life. Ford regulars Donald Meek and Ward Bond co-star. At the time, Ford's two other 1939 releases, Stagecoach and Drums Along the Mohawk (talk about a great year), overshadowed this one, but it is now an unalloyed masterpiece.
The Sandlot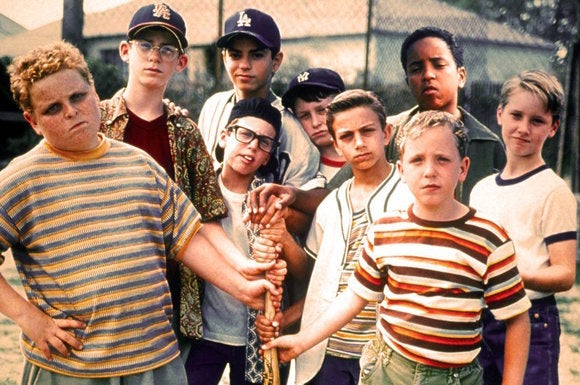 ★★★★☆
This family friendly movie has one of the best, most chest-thumping, moist-eyed Fourth of July scenes ever filmed. The Sandlot (1993) tells the story of the summer of 1962, when smart kid Scotty Smalls (Tom Guiry) moves to town, has no friends, and has no idea how to play baseball. The skilled, older "Benny" (Mike Vitar) lets him join their sandlot team anyway; these nine kids simply play ball, all day, without ever keeping score. But if anything gets hit over the fence, it's gone forever, thanks to a mean, monster-sized junkyard dog. Of course, Scotty manages to hit his stepfather's autographed Babe Ruth ball into dog territory.
Director David M. Evans includes plenty of mood-setting scenes that don't necessarily advance the plot, but bring home the feel of summer, friendship, and a good game of baseball. The Independence Day scene comes when the neighborhood holds a block party full of food and fun, but the kids dash off to their sandlot ballfield, using the holiday fireworks as nighttime illumination for some extra innings. Karen Allen, Denis Leary, and James Earl Jones play grownups, and a young Marley Shelton plays the teen dream pool lifeguard Wendy Peffercorn.
To Kill a Mockingbird