Talentcell 10400mAh 38Wh Portable Charger review: USB-C battery pack is a good value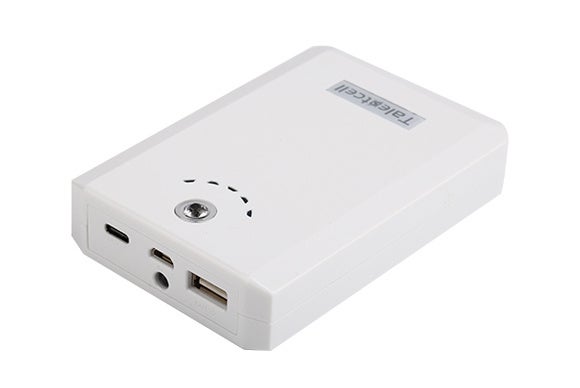 At a Glance
Talentcell 10400mAh 38Wh High Capacity Portable Charger Type C External Battery Pack Power Bank

Macworld Rating
The following review is part of our USB-C battery pack roundup. Click a link below to read the following:
The Talentcell 10400mAh Portable Charger is molded plastic and has the cheapest look and feel of the four tested. However, it's sturdy and well snapped together, and performed extremely well in testing. While it ostensibly has just 10,400 mAh of capacity, in testing it seemed to punch well above its class. It was able to recharge a MacBook to 80 percent (as reported by OS X) before the juice stopped flowing. That's only slightly worse than the 20,1000 mAh RAVPower, but a good 10 percent more than the more-expensive Monoprice 10000 mAh.
However, it comes with a footnote. At about 50 percent charged, the MacBook stopped pulling power from the Talentcell. I had to power down the MacBook completely to charge more fully, which gives the Talentcell an advantage in testing over the other batteries that fed power to the laptop purely in sleep mode. It also charges very slowly. The model I tested caps input at 1.5A, making it take nearly as long to charge as a pack with twice the capacity.
The pack has three ports: the Micro-USB port is devoted to recharging its internal cells. The USB-C port doesn't list its maximum amperage, but the company says it's 2.4A in a posting at Amazon. The Type-A port is apparently the same, and the maximum between the two is 3A.
This old-school pack uses embossed molding rather than silkscreening to label ports, hard to read in low light, but that's fine given it has three distinctly shaped openings. Its charge-status lights are huge and have oddly shaped cutouts, while its charge-status button displays blue when recharging and red while being drained. It also sports a bright LED flashlight, useful when you're rooting around for cables to plug in.
Includes USB-C male-to-male capable, Micro-USB to Type-A cable. One-year warranty.
This story, "Talentcell 10400mAh 38Wh Portable Charger review: USB-C battery pack is a good value" was originally published by Macworld.
At a Glance
Talentcell 10400mAh 38Wh High Capacity Portable Charger Type C External Battery Pack Power Bank

Macworld Rating
Shop Tech Products at Amazon
Popular on TechConnect
Start your new computer off right with solid security tools, productivity software, and other programs...
Our top picks feature the best tech advances in portable PCs, from new CPUs and GPUs to new materials.
These graphically intense PC games crank the eye candy to 11—and make your PC sweat while they're at...
Music streaming services are great. If you'd like to try one, Amazon is offering two months for free...
A website with an image directory that uses $MFT in its name is enough to crash Windows 7 and 8 PCs.
The Roomba 650 Vacuuming Robot provides a thorough clean, all at the push of a button. The patented,...