Sapphire Nitro R9 380 ITX Compact review: Tiny graphics card, big-time power
The Sapphire Nitro R9 380 ITX Compact may be built for little PCs, but it punches with the big boys.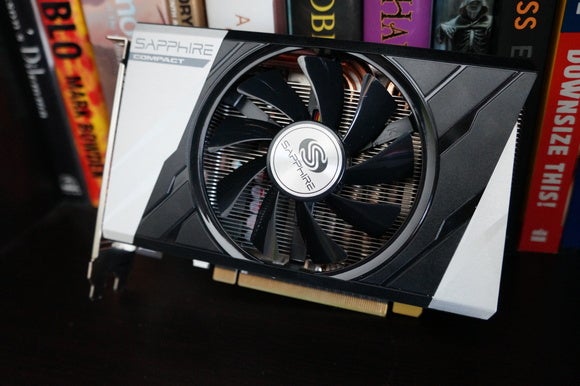 At a Glance
Sapphire Technology Nitro Radeon R9 380 ITX Compact

PCWorld Rating
When it comes to graphics cards, bigger has traditionally meant better: Bigger performance demands bigger graphics chips, which means bigger heat output, which means bigger custom cooling solutions, all of which results in physically larger—sometimes downright hulking—graphics cards.
But the times, they are a-changin'. Small form factor PCs have captured the public's imagination, spurred on by the rise of Steam Machines and AMD's radical, 4K-capable Radeon Nano. More and more, readers are tweeting at me, asking for mini-ITX graphics cards recommendations. But until now, the only recent mITX graphics cards we had reviewed were the Nano and Asus GTX 970 DirectCU Mini, both of which are pricey enthusiast cards that—ironically—command even higher premiums for their more diminutive form factors.
Itty-bitty gaming PCs don't have to break the bank, though, and they no longer have to trade performance for their shrunk-down size. Case in point: the Sapphire Nitro Radeon R9 380 ITX Compact, a mITX version of the best $200 graphics card you can buy. Sapphire recently upped the memory on the card from 2GB to 4GB—the perfect excuse to review an affordable mITX graphics card that still delivers big-time graphics performance.
Meet the Sapphire Nitro Radeon R9 380 ITX Compact
This card's basically a miniaturized version of the Radeon R9 380, which is itself a tuned-up version of the older R9 285. It supports AMD's far-flung software ecosystem too, playing nice with DirectX 12, LiquidVR, Eyefinity multi-monitor setups, virtual super resolution, oh-so-wonderful FreeSync displays, the new Radeon Software Crimson tools, and more.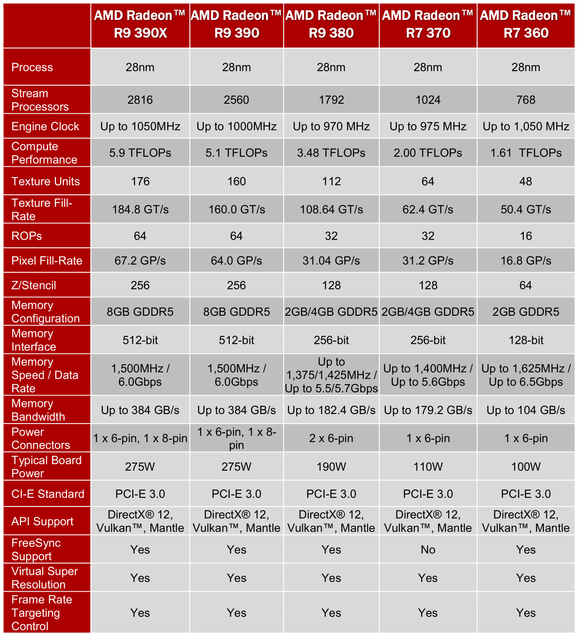 But Sapphire's added several tweaks to help this card stand out for more than just its small 6.7 x 4.57 x 1.46-inch size.
The Nitro R9 380 ITX Compact features a thick heat sink augmented with four thick copper pipes, all residing underneath a lone dual-ball-bearing fan. It dissipates heat well enough to run remarkably quiet even under heavy loads. The card was built using long-life capacitors and black diamond chokes typically reserved for Sapphire's higher-end graphics cards, such as the Nitro Radeon R9 390; Sapphire says the capacitors lengthen the card's lifespan, while a black diamond choke "runs 10 percent cooler and with 25 percent more power efficiency than a normal choke."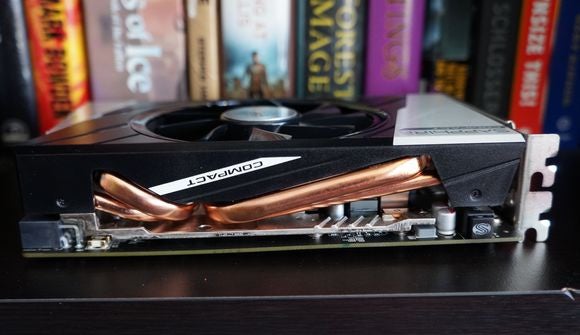 That's important in such a tightly packed graphics card, especially since the Sapphire Nitro R9 380 ITX Compact comes factory overclocked. The GPU core clock hits 1GHz, compared to the 970MHz of the stock Radeon R9 380, while the 4GB of onboard RAM runs at 1,450MHz—a 75MHz boost over default.
That extra oomph means the Nitro R9 380 ITX Compact needs a bit more juice than stock models, too. While reference designs suck down 190W, Sapphire's card demands 225W, which it gets via an eight-pin connector placed on the rear of the card instead of the side. Depending on how your mITX case is configured, that could be a blessing, or it could be a curse.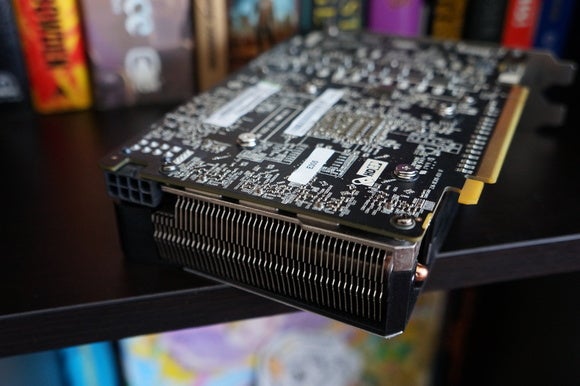 There are a few more aesthetic points worth mentioning. The Nitro R9 380 ITX Compact ships with both legacy BIOS and modern UEFI firmware for maximum system compatibility. You can switch between the two using a toggle on the top edge of the card. (It's pictured above, in the image of the heat pipes.) The card also features an unconventional set of ports: DVI-D, HDMI, and dual mini-DisplayPort connections rather than full-sized ports. Fortunately, Sapphire thought ahead and bundled a mDP-to-DP adapter in the box, along with DVI-to-VGA and dual six-pin-to-single-eight-pin adapters.
Got it? Good. Let's take this puppy for a drive.
Sapphire Nitro Radeon R9 380 ITX Compact benchmarks
We tested the Sapphire Nitro Radeon R9 380 ITX Compact on PCWorld's dedicated graphics card benchmark system. Key highlights of the build:
Next page: Performance benchmarks
At a Glance
Sapphire Technology Nitro Radeon R9 380 ITX Compact

PCWorld Rating

The Sapphire Nitro R9 380 ITX Compact delivers great 1080p gaming performance in a tiny mini-ITX form factor with surprisingly little compromise.

Pros

Good 1080p gaming performance
Whisper-quiet
Small mITX size
Shop Tech Products at Amazon
Popular on TechConnect
Start your new computer off right with solid security tools, productivity software, and other programs...
Our top picks feature the best tech advances in portable PCs, from new CPUs and GPUs to new materials.
These graphically intense PC games crank the eye candy to 11—and make your PC sweat while they're at...
Music streaming services are great. If you'd like to try one, Amazon is offering two months for free...
A website with an image directory that uses $MFT in its name is enough to crash Windows 7 and 8 PCs.
The Roomba 650 Vacuuming Robot provides a thorough clean, all at the push of a button. The patented,...